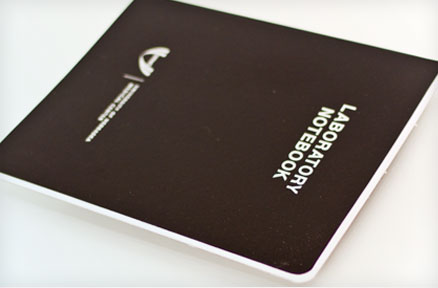 Over the past few months UNeMed has sponsored several seminars on the importance of using laboratory notebooks to document and protect your research. As a result we have received many inquiries on purchasing these notebooks directly. For your convenience, UNeMed has already paid the set up charge for the UNMC logo to be placed on the notebooks. The minimum purchase to receive the logo is 12 books (one case).
Note: You must request the logo upon ordering.
Scientific Notebook Company
Visit www.snco.com or call 1.800.537.3028 to place your order.
Notebook #1201 – (96 pages – 48 leaves printed front & back)
Hard cover with 8 page table of content
Cost $12.00 before discount*
Notebook #2001 – (192 pages – 96 leaves printed front to back)
Hard cover – comes with several color choices, 8 page table of content
Cost $16.00 before discount*
Orders are shipped UPS ground and take about a week. All prices listed are before discount and do not include shipping. Prices subject to change.
Discounts are offered when a minimum 2 cases (24 books) are ordered and begin with 10% off list price. For a full list of price breaks, log onto the SNCO website link noted above.
If you have any additional questions or would like some assistance with selecting notebooks for your lab or department, you may contact UNeMed at extension 9-2468.