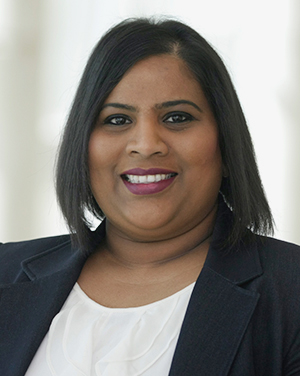 Licensing Specialist
(402) 559-3265
catherine.murari@unmc.edu
Dr. Catherine Murari-Kanti is a licensing specialist at UNeMed and is responsible for evaluating UNMC's and UNO's inventions and discoveries and checking for commercial and patent viability. As part of her role, she engages with faculty, staff and students to discuss their inventions, performs prior-art searches to check for patentability and seeks licensing rights to the University's technologies through marketing activities with industrial partners. Dr. Murari-Kanti also directs UNeMed's educational outreach programs, including the annual Technology Transfer Boot Camp and the Enhanced Medical Education Track – Innovations in Clinical Care for the School of Medicine.
Dr. Murari-Kanti completed her bachelor's and master's in Pharmaceutical Sciences and joined the Cancer Research Graduate Program at UNMC in 2010. During her tenure as a graduate student she felt pulled towards non-traditional careers after a Ph.D. This led her to enroll in UNeMed's Research Commercialization Course in 2013 and the Technology Transfer Boot Camp in 2015, eventually leading to a UNeMed internship after graduation.

Technology Portfolio: