Description
Wearable device warns of worsening COPD symptoms…before they happen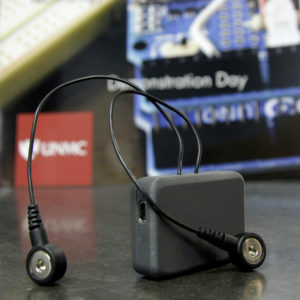 Chronic obstructive pulmonary disorder, or COPD, is one of the largest and fastest growing causes of death in the world.

People that live with COPD suffer chronic breathlessness and the risk of exacerbations: A sudden worsening of symptoms. Exacerbations are deadly, and are often only treatable in the intensive care unit.

A new invention from the University of Nebraska warns people with COPD about worsening symptoms, before they happen.

The device monitors the synchronization between breathing and walking. In laboratory studies, patients with COPD were less able to synchronize their breathing and walking. The worse the disease got, the worse their ability to synchronize.

Initial results from a national clinical study matched laboratory results. The inventors are currently working to further refine the device and improve the analysis.

For the first time ever, a wearable device has the potential to predict the worsening of COPD symptoms, even exacerbations. Early detection opens the door to new treatment protocols focused on preventing worsening symptoms, exacerbations and costly hospitalizations.

To discuss licensing opportunities please contact Joe Runge, J.D., M.S., at hrunge@unmc.edu or 402-559-1181.