Description
New manikin improves training for endovascular procedures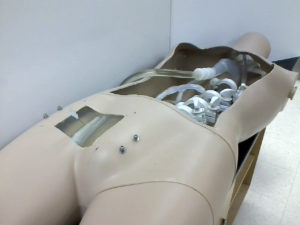 Researchers at the University of Nebraska Medical Center developed a simulation manikin for vascular procedures to help physicians, residents, and medical students improve skills and test medical devices.

The simulation manikin replicates the vascular system, including special valves for controlled bleeding and a life-like pulse. The vascular system can be swapped out so users can practice on various anatomies such as healthy vascular systems with specific diseases or disorders—aortic dissections, aortic aneurysms and plaques.

The manikin also contains a module that allows the practice of gaining access to a groin artery. The access module can be used multiple times without leaking and is compatible with ultrasound imaging.

The system can be opened, allowing users to see the procedures as they practice. Or, the system can be fully enclosed and used in combination with standard imaging technology such as fluoroscopy and ultrasound.

This system is also ideal for testing new medical devices such as stents, grafts and balloon catheters.

To discuss licensing opportunities please contact Matt Boehm, Ph.D., at mboehm@unmc.edu or 402-559-2166.