Description
Get slide pictures with a smartphone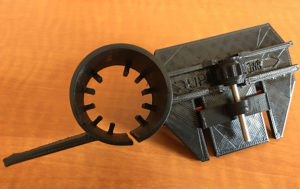 The J-Mount is a 3D-printed microscope mount designed to slip over an eyepiece, and hold a smartphone in a proper position to capture digital images.

The mount holds the device in a landscape orientation and has a thumbscrew to adjust the Y-axis. Once the device is adjusted for a particular smartphone or tablet, the device can be easily removed and mounted without further adjustments, allowing a user to rapidly and easily capture photographs.

The mount will work with a variety of smartphones, with and without cases, and also works with a variety of imaging equipment including microscopes, slit-lamp examination devices, dissection scopes, etc. The mount was developed at the University of Nebraska Medical Center by Pathology Resident, Jesse Cox, M.D.

More information can be found at www.yellowbasementdesign.com

Note: The microscope J-Mount is sold by third party vendor not unaffiliated with UNeMed Corporation on the vendor's website. Any questions, comments or concerns related to this product should be directed to the vendor.