NOW HIRING!
Learn how to join the UNeMed team as a licensing or communications intern.
Applications will be accepted until positions are filled.
UNeMed engages several outreach programs for two key reasons. First, UNeMed takes seriously its part in the University's overall educational mission and in providing any opportunity for growth and learning. Second, we strongly believe that fostering a culture of innovation at UNMC and UNO will help us succeed in our mission.
Some of UNeMed's educational programs target everyone at the University of Nebraska with general information regarding tech transfer, innovation and research. But there are also more specific programs tailored to individuals who show interest in transferring technologies to the commercial sector.
Former UNeMed interns and licensing fellows have gone on to excel at organizations that span the full spectrum of the technology transfer realm, including Sloan Kettering Cancer Center, RTI International, Northshore Bio, U.S. Patent and Trademark Office, Streck, Allergan, LI-COR and Notre Dame University, to name a few. Several have been hired to full-time licensing positions at UNeMed.
Internships | Licensing Fellowship | Boot Camp
Internship Program

UNeMed Corporation is now seeking qualified candidates for its competitive internship program. Positions are open on the licensing and communications teams.
Licensing & Marketing Internship
UNeMed's licensing and marketing interns gain hands-on training, mentorship and all the tools needed to launch a successful career in the technology transfer or biotechnology industry.
All interns work closely with experienced UNeMed staff to help biomedical inventions developed at UNMC and UNO move beyond the laboratory and into the marketplace. UNeMed interns will gain valuable, first-hand experience in a wide range of interdisciplinary, technology transfer-related activities, including:
Invention evaluations
Patent and copyright law
Contract negotiation
Startup business formation
Technology marketing
The ideal candidate will:
Be actively working towards or hold an advanced degree in a scientific field
Have the ability to comprehend complicated scientific and technical information
Have excellent research, analytical and writing skills
Strong written and oral communication skills
Be an independent thinker who is self-motivated and can take initiative while still contributing to a dynamic, fast-paced team environment
Be able to work with the diverse range of personalities often found among elite academic researchers and biomedical industry executives
Have the ability work on several projects at one time
UNeMed interns will be expected to:
Help evaluate new invention submissions
Develop technical marketing summaries
Conduct market analysis research
Promote UNeMed and UNMC innovations to local, regional and national companies
Manage marketing campaigns
Identify potential licensees
Develop communication strategies to promote UNMC and UNO technologies
To apply for the licensing and marketing internship, submit a résumé or CV with a letter expressing interest to UNeMed@unmc.edu, with "UNeMed Licensing & Marketing Internship" in the subject line. UNeMed will accept applications until the position is filled.
Communications Internship
The communications intern will use existing content to help organize and grow UNeMed's social media presence. The intern will also have the opportunity to contribute in other areas as well. Potential opportunities for additional experience could include producing blog posts, feature stories, news articles, photos or video packages. Most content will appear on UNeMed's website, but some items might have potential for wider audiences.
This internship provides a great opportunity to not only improve and master social media marketing strategies, but also hone a wide range of skills needed to help a non-expert understand and appreciate complicated ideas, concepts and technologies.
The ideal candidate will be nimble on most social media platforms, LinkedIn in particular, and be ready to elevate existing accounts to new levels of engagement. The ideal candidate is also a skilled storyteller with a knack for slaying jargon and explaining scientific terms.
A scientific background or experience writing about science-related topics is preferred, but any curious person who appreciates a good "gee-whiz" story about scientific innovation—and wants to improve or learn how to do it—is encouraged to apply.
The communications intern is a paid position at about 15-25 hours per week. Pay will be commensurate with skill and experience levels, and hours can be flexible to fit a student's schedule.
To apply for the communications internship, submit a résumé or CV with three appropriate samples of work and a letter expressing interest to Charlie Litton at charles.litton@unmc.edu. UNeMed will accept applications until the position has been filled.
All UNeMed internships are renewable, six-month appointments that cannot exceed one year. Most interns in previous years have remained on staff for a full year, and several have gone on to full-time, licensing positions, including current members of the permanent staff. Interns are expected to work at least 15 hours per week, with a maximum of 40 hours per week.
UNeMed Licensing Fellows Program
UNeMed periodically offers fellowship opportunities for qualified candidates interested in technology transfer. However, all positions are currently filled, and we are not seeking additional applications at this time.
UNeMed licensing fellows are full-time employees in renewable one-year appointments, not to exceed three years. They receive University of Nebraska benefits, and compensation is consistent with NIH standards.
Because most UNeMed licensing fellows are drawn from the internship program, they typically perform many of the same duties they learned and practiced as interns. Licensing fellows, however, are afforded far more freedom and independence to evaluate and build their own accounts while developing and implementing their own marketing campaigns. UNeMed's fellowship program is also unique in that it affords the flexibility for licensing fellows to define their own roles to fit their unique strengths.

Licensing fellows since 2008
Tyler Scherr, Ph.D., 2018-2019
Catherine Murari-Kanti, Ph.D., 2017-2018
Amanda Hawley, Ph.D., 2015-2016
Caronda Moore, Ph.D., 2013-2016
Agnes Lenagh, Ph.D., 2012-2015
Qian Zhang, Ph.D., M.B.A., 2011-2014
William Hadley, J.D., 2011-2013
Matt Boehm, Ph.D., 2009-2010
Russell Nelsen, J.D., 2009-2010
Tara Scrogin, J.D., 2008

The minimally qualified licensing fellow candidate will have:
Completed a doctoral program
Prior experience in technology transfer industry, OR
Prior experience in the biotechnology, pharmaceutical, medical device or other relevant industry
Excellent oral and presentation skills
Excellent writing skills that can explain complicated information to a non-expert
Experience and knowledge about intellectual property rights
Experience and knowledge about market research
An expert ability to grasp complicated scientific inventions
A successful licensing fellowship candidate might overcome a lack in one of these qualifications if they have expertise in a field that could help UNeMed better fulfill its mission, such as graphic design, videography or web coding and design.
UNeMed Licensing Fellows will be expected to independently:
Evaluate new inventions and discoveries
Develop technical marketing summaries and market analysis
Promote UNMC and UNO innovations to domestic and international companies
Manage technical marketing campaigns
Develop legal assessments of intellectual property positions
Develop strategies to promote the licensing of new inventions
Tech Transfer Boot Camp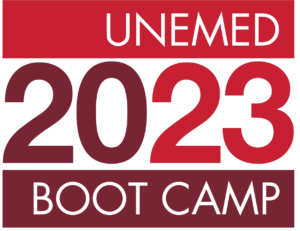 In response to increased interest in its internship program, UNeMed has developed an interactive training camp to help prepare participants for a career in technology transfer.
The UNeMed Tech Transfer Boot Camp is a short program that emphasizes technology commercialization in a university environment. The program is designed as a technology transfer short course that introduces participants to the process and tools required to assess the commercialization potential and develop a marketing strategy for university-based innovations.
Admission to the program is based on the strength of the application including: academic accomplishments, career interests, and enthusiasm for technology innovation and commercialization.
UNeMed's 2023 Technology Transfer Boot Camp will be held 8 a.m.-noon on Aug. 7-11, 2023. Deadline for applications is Saturday, July 1, 2023.
Questions regarding the Boot Camp can be directed to Lisa Carlson, PhD.

About UNeMed | In The News | Startups | Success Stories | Staff Directory | Careers & Education