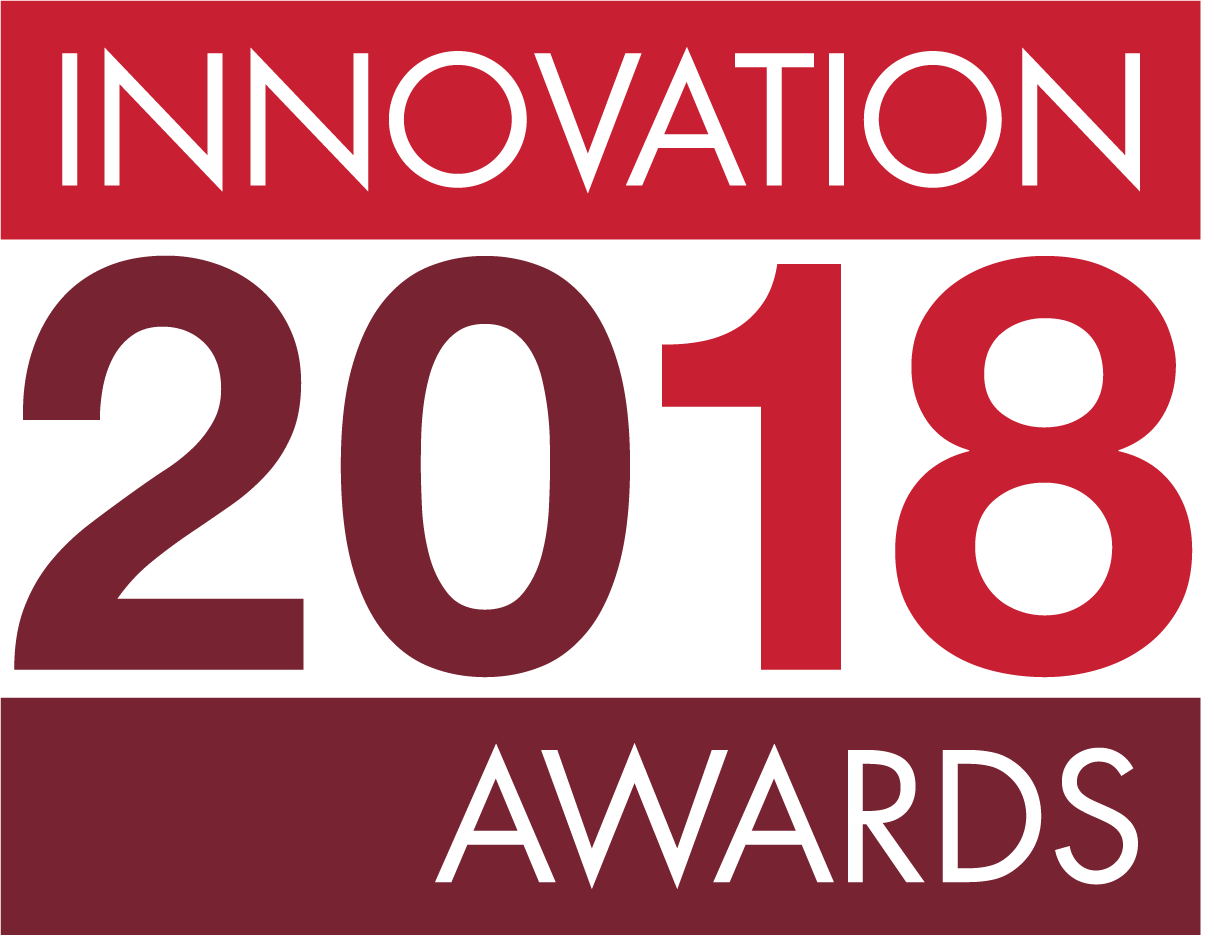 UNeMed's annual Research Innovation Awards Banquet is the culmination of a week of activities that celebrate research and innovation at UNMC. The awards recognize faculty, students and staff that invented a new technology, licensed an invention or secured intellectual property rights during the previous fiscal year. UNeMed also presents Emerging Inventor, Lifetime Achievement, and Innovator of the Year awards as circumstances dictate. Finally, UNeMed also presents a "Most Promising New Invention" as an annual award. In 2018, the first Startup of the Year award was presented by UNeTech, the University's incubator and accelerator program.
The 2019 Innovation Awards is invitation-only, and will be held at the Truhlsen Campus Events Center at 5 p.m. on Thursday, Oct. 17. You may request an invitation at unemed@unmc.edu or 402-559-2468.

Last year, the entire biomechanics department at UNO won the Innovator of the Year award on the back of a portfolio of innovations that hope to dramatically impact a wide range of diseases and indications, including: COPD, concussions, fall risk and prosthetics, to name a few. Collaborators Catherine Gebhart, Ph.D., and Varun Kesherwani, Ph.D., also earned special recognition as the inventors of the "Most Promising New Invention" of 2018.
Download the 2018 Innovation Awards Program here or view it below.

Innovation Awards Demo Day Past Events
Innovator of the Year
Nick Stergiou, Ph.D., accepts the Innovator of the Year on behalf of the entire Biomechanics Department at the University of Nebraska at Omaha. Stergiou is the founding chair of UNO's biomechanics program, which became the first department to win UNeMed's top honor as a collective.
UNO's Biomechanics department has produced a remarkable portfolio of innovations that could all have significant impacts in healthcare in the coming years. Among those innovations is a gait analysis system that can look at the way people walk and determine the risk of falls in the elderly or other frail patients. Another innovation uses the subtle fluctuations as person balances themselves to detect concussion and potentially other traumatic brain injuries. Another program is building low-cost, 3D-printed prosthetic limbs and cybernetics. And yet another program could predict sudden onset of life-threatening symptoms for sufferers of Chronic Obstructive Pulmonary Disorder or COPD.
Most Promising New Invention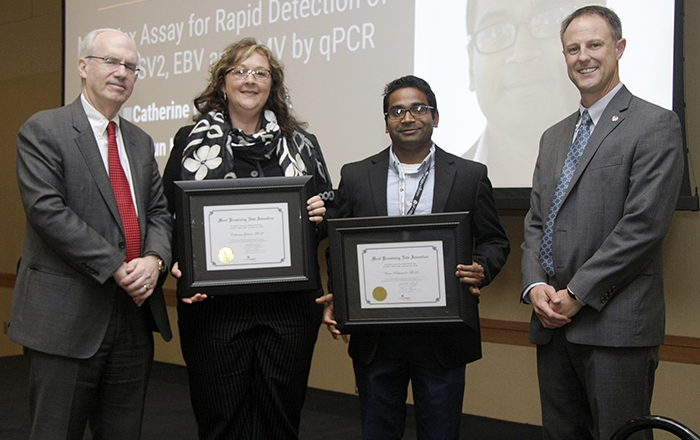 Collaborators Catherine Gebhart, Ph.D., Varun Kesharwani, Ph.D., earned recognition as co-inventors of the "Most Promising New Invention" of 2018.
They developed a test that detects four types of human herpes virus. Their approach also minimizes the risk of false negatives.
The test has already attracted outside interest with Omaha's Streck, a local biotech company specializing in medical testing systems. Streck and UNeMed will soon sign a sponsored research agreement that will help advance the technology.
Startup of the Year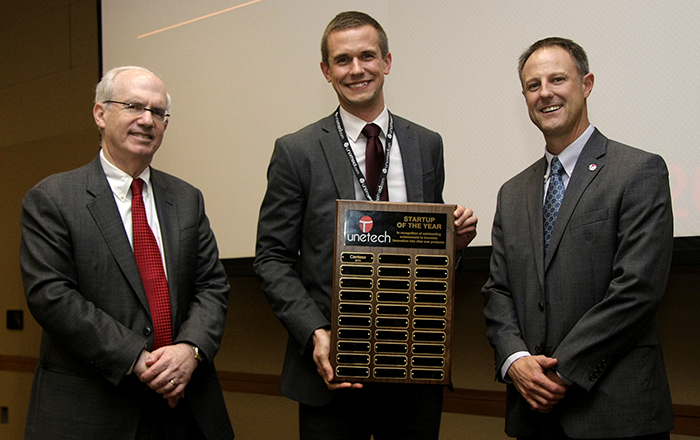 UNeTech also presented its first-ever award, the Startup of the Year with Centese, Inc., taking home the inaugural prize.
Led and co-founded by Nebraska native Evan Luxon, Centese is poised to bring to market Thoraguard, a medical device that automatically clears chest tube blockages. Centese is awaiting final FDA approval, which could soon put Thoraguard on the market.
UNeTech is the university's startup accelerator and incubator program, which was established about a year ago to help nurture early stage technologies and fledgling startup companies with university ties.
Award Winners
Special Awards
| | | |
| --- | --- | --- |
| 2018 | UNO Biomechanics Department | Innovator of the Year |
| 2018 | Centese, Inc. | Startup of the Year |
| 2017 | Donny Suh, M.D. | Emerging Inventor |
| 2016 | Irving Zucker, Ph.D. | Innovator of the Year |
| 2015 | Tammy Kielian, Ph.D. | Innovator of the Year |
| 2014 | Marius Florescu, M.D. | Emerging Inventor |
| 2013 | Howard Gendelman, M.D. | Innovator of the Year |
| 2012 | Tammy Kielian, Ph.D. | Emerging Inventor |
| 2011 | Jonathan Vennerstrom, Ph.D. | Lifetime Achievement |
| 2010 | Amarnath Natarajan, Ph.D. | Emerging Inventor |
| 2009 | Rodney Markin, M.D., Ph.D. | Lifetime Achievement |
| 2008 | Dong Wang, Ph.D. | Emerging Inventor |
| 2007 | Robert LeVeen, M.D. | Lifetime Achievement |
Most Promising New Invention
2018
Catherine Gebhart, Ph.D. and Varun Kehsarwani, Ph.D.
Multiplex assay for rapid detection of HSV1, HSV2, EBV and CNV by qPCR
2017
Jingwei Xie, Ph.D., Mark Carlson, M.D., Shixuan Chen, Ph.D.
Nanofiber Sponges for Hemostasis
2016
Joyce Solheim, Ph.D. and Tatiana Bronich, Ph.D.
Compositions for Modulated Release of Proteins and Methods of Use Thereof
2015
Michael Wadman, M.D., F.A.S.E.P. &
Thang Nguyen, M.S.N., A.P.R.N., F.N.P.-C
Emergency Medicine Care Portfolio:
Wound Irrigation System & Oral
Airway Management
2014
Jason MacTaggart, M.D.
Orthagonal AquaBlade
2013
Keshore Bidasee, Ph.D.
Targeted Glyoxalase-1 Gene Transfer
to Prevent Cardiovascular and End-
Organ Complications in Diabetes
2012
Gregory Oakley, Ph.D
Small Molecule in Vivo Inhibitors of
the N-Terminal Protein Interacting
Domain of RPA1
2011
Babu Padanilam, Ph.D
Novel Target for the Treatment of
Renal Fibrosis
2010
Stephen Bonasera, M.D., Ph.D.
Noninvasive Monitoring of Functional
Behaviors in Ambulatory Human
Populations
2009
Paul Dunman, Ph.D.
Novel Antibiotic Compounds
2008
Guangshun (Gus) Wang, Ph.D.
Anti-HIV Peptides and Methods of
Use Thereof
2008
Janina Baranowska-Kortylewicz, Ph.D.
Sex Hormone Binding Globulin: New
Target for Cancer Therapy