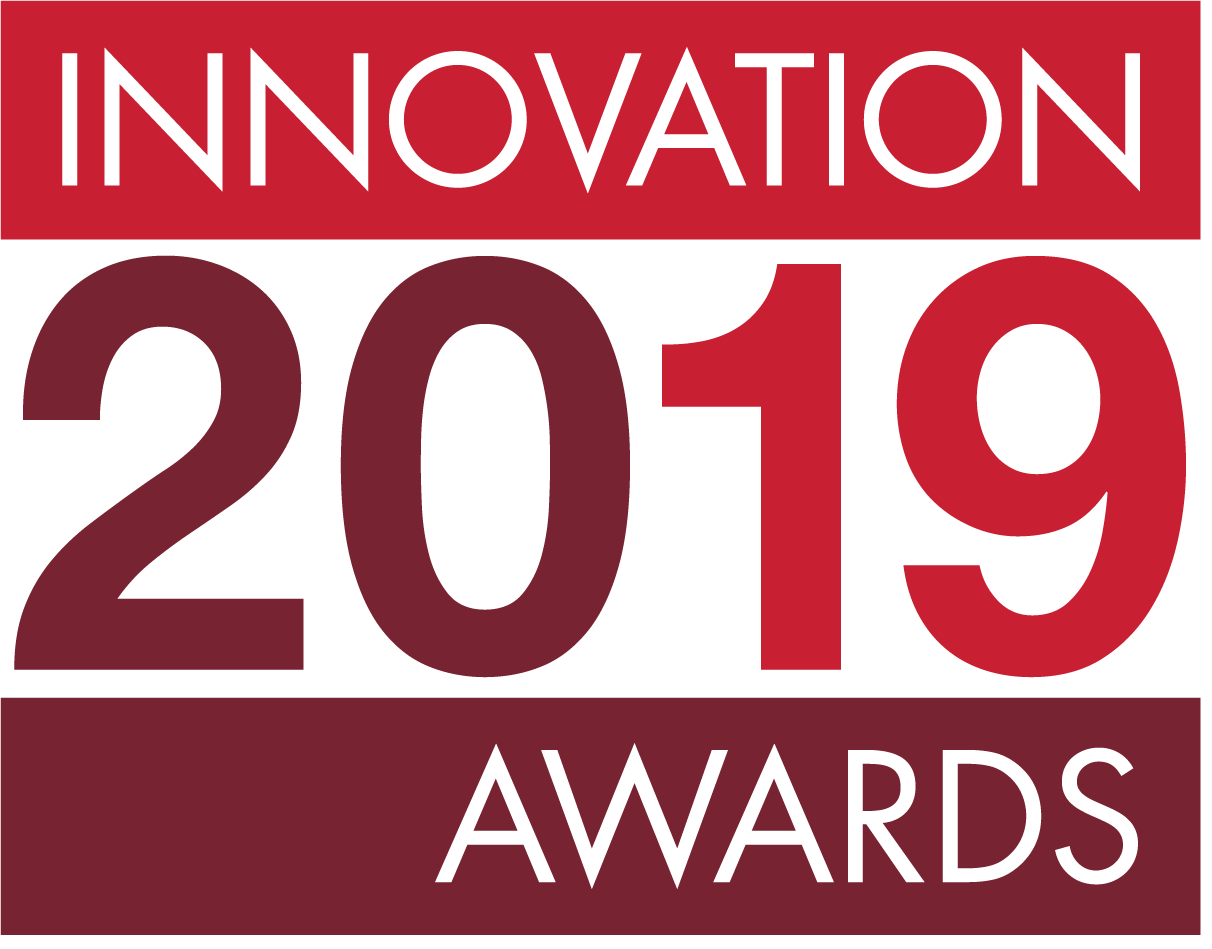 UNeMed's annual Research Innovation Awards Banquet is the culmination of a week of activities that celebrate research and innovation at UNMC. The awards recognize faculty, students and staff that invented a new technology, licensed an invention or secured intellectual property rights during the previous fiscal year. UNeMed also presents Emerging Inventor, Lifetime Achievement, and Innovator of the Year awards as circumstances dictate. Finally, UNeMed also presents a "Most Promising New Invention" as an annual award. In 2018, the first Startup of the Year award was presented by UNeTech, the University's incubator and accelerator program.
The 2019 Research Innovation Awards Banquet was held Thursday, Oct. 17, 2019, at the Michael Sorrell Center in the Truhlsen Campus Events Center. Benson Edagwa, Ph.D., was named the Emerging Inventor; Corey Hopkins, Ph.D., won the Most Promising New Invention award; and Jason Johanning, M.D., took home UNeTech's Startup of the Year award.
Download the 2019 Innovation Awards Program here or view it below.

Innovation Awards Demo Day Past Events
Emerging Inventor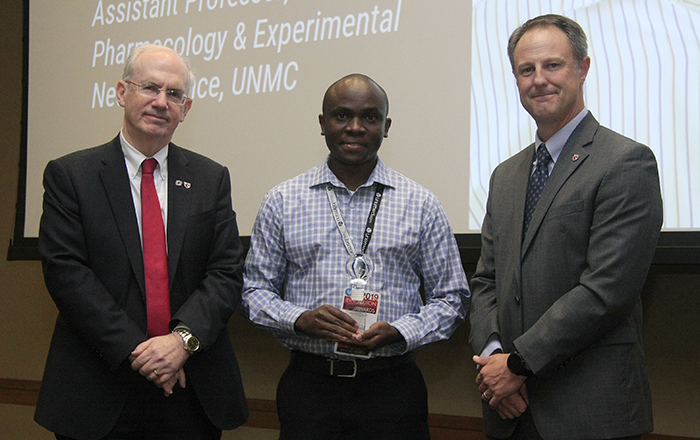 Benson Edagwa, Ph.D., is the 2019 Emerging Inventor in recognition of his contributions to innovations in the development of long-acting antiretroviral therapies.
Since he joined UNMC in 2012, Dr. Edagwa has been an inventor on 11 inventions, including three in the last year. He is also a listed inventor on 11 pending patent applications. Most of his work centers on improvements to treating HIV and Hepatitis B, and is a key inventor of LASER ART (long acting slow effective antiretroviral therapy). LASER ART shows great promise as a treatment that could be given to HIV patients once every six months or even just once a year. LASER ART was also a key component in a recent study led by Howard Gendelman, M.D., that appeared to eradicate HIV from mice—a scientific first.
Most Promising New Invention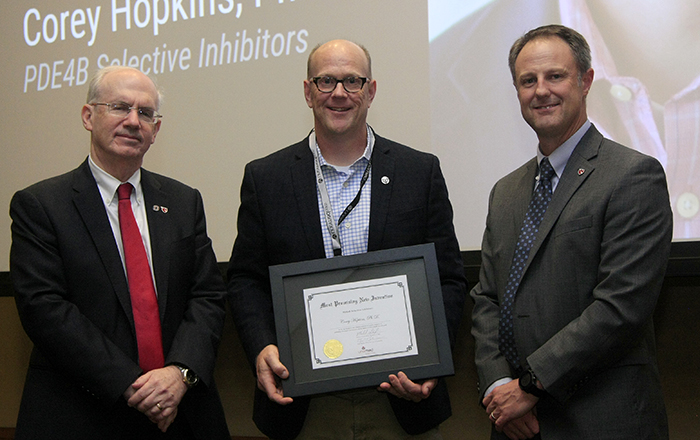 Corey Hopkins, Ph.D., is developing a novel series of inhibitors that hold promise as treatments for several inflammatory diseases, including chronic obstructive pulmonary disease, rheumatoid arthritis, psoriasis, atopic dermatitis and inflammatory bowel disease.
His inhibitors, which target phosphodiesterase 4 or PDE4, also show promise in central nervous system diseases like schizophrenia, neurodegenerative diseases and even drug addiction.
Startup of the Year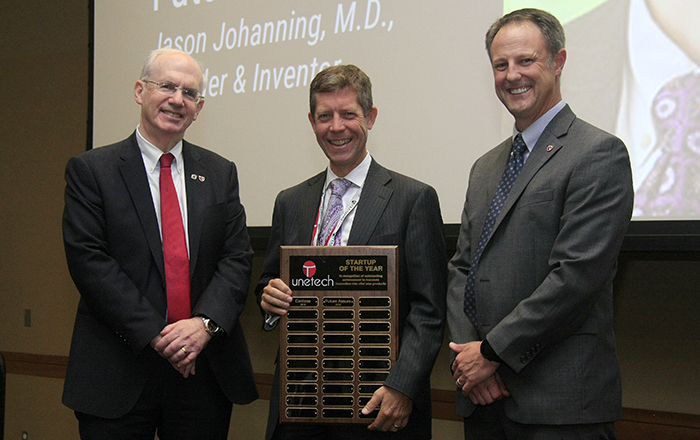 UNeTech also presented its second Startup of the Year with FutureAssure taking home the prize.
Jason Johanning, M.D., created built FutureAssure on the foundation of a device he invented that will help measure a patient's risk in surgery. The device gives medical teams objective measures to assess that risk and eventually improve outcomes and surgical safety.
UNeTech is the university's startup accelerator and incubator program, which was established about a year ago to help nurture early stage technologies and fledgling startup companies with university ties.
Award Winners
Special Awards
| | | |
| --- | --- | --- |
| 2019 | Benson Edagwa, Ph.D. | Emerging Inventor |
| 2019 | FutureAssure | Startup of the Year |
| 2018 | UNO Biomechanics Department | Innovator of the Year |
| 2018 | Centese, Inc. | Startup of the Year |
| 2017 | Donny Suh, M.D. | Emerging Inventor |
| 2016 | Irving Zucker, Ph.D. | Innovator of the Year |
| 2015 | Tammy Kielian, Ph.D. | Innovator of the Year |
| 2014 | Marius Florescu, M.D. | Emerging Inventor |
| 2013 | Howard Gendelman, M.D. | Innovator of the Year |
| 2012 | Tammy Kielian, Ph.D. | Emerging Inventor |
| 2011 | Jonathan Vennerstrom, Ph.D. | Lifetime Achievement |
| 2010 | Amarnath Natarajan, Ph.D. | Emerging Inventor |
| 2009 | Rodney Markin, M.D., Ph.D. | Lifetime Achievement |
| 2008 | Dong Wang, Ph.D. | Emerging Inventor |
| 2007 | Robert LeVeen, M.D. | Lifetime Achievement |
Most Promising New Invention
2019
Corey Hopkins, Ph.D.
PDE4B Selective Inhibitors
2018
Catherine Gebhart, Ph.D. and Varun Kehsarwani, Ph.D.
Multiplex assay for rapid detection of HSV1, HSV2, EBV and CNV by qPCR
2017
Jingwei Xie, Ph.D., Mark Carlson, M.D., Shixuan Chen, Ph.D.
Nanofiber Sponges for Hemostasis
2016
Joyce Solheim, Ph.D. and Tatiana Bronich, Ph.D.
Compositions for Modulated Release of Proteins and Methods of Use Thereof
2015
Michael Wadman, M.D., F.A.S.E.P. &
Thang Nguyen, M.S.N., A.P.R.N., F.N.P.-C
Emergency Medicine Care Portfolio:
Wound Irrigation System & Oral
Airway Management
2014
Jason MacTaggart, M.D.
Orthagonal AquaBlade
2013
Keshore Bidasee, Ph.D.
Targeted Glyoxalase-1 Gene Transfer
to Prevent Cardiovascular and End-
Organ Complications in Diabetes
2012
Gregory Oakley, Ph.D
Small Molecule in Vivo Inhibitors of
the N-Terminal Protein Interacting
Domain of RPA1
2011
Babu Padanilam, Ph.D
Novel Target for the Treatment of
Renal Fibrosis
2010
Stephen Bonasera, M.D., Ph.D.
Noninvasive Monitoring of Functional
Behaviors in Ambulatory Human
Populations
2009
Paul Dunman, Ph.D.
Novel Antibiotic Compounds
2008
Guangshun (Gus) Wang, Ph.D.
Anti-HIV Peptides and Methods of
Use Thereof
2008
Janina Baranowska-Kortylewicz, Ph.D.
Sex Hormone Binding Globulin: New
Target for Cancer Therapy