Description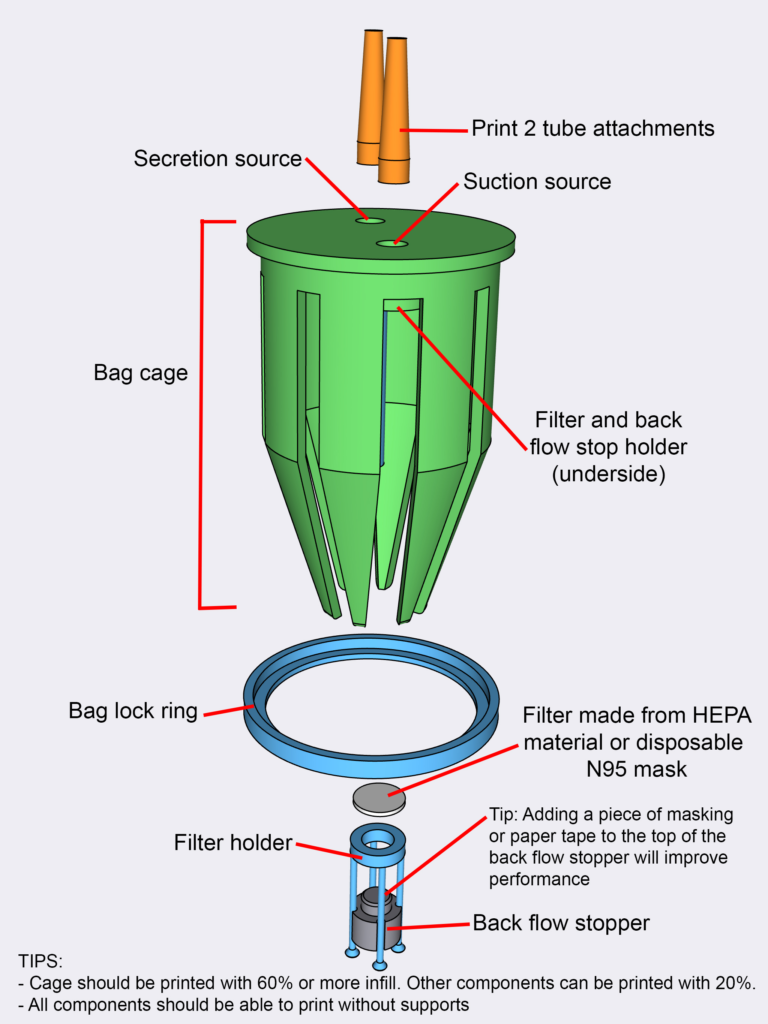 Use any liquid impermeable bag as a collection vessel
This innovative concept uses 3D-printed parts and everyday bags to fabricate a device capable of acting as a procedural suctioning kit.

Procedural suctioning is a critical component of safe patient care. It is standard practice to suction bodily fluids into suction canisters during medical procedures. This practice is used across the spectrum of health care, including ambulatory health services, surgery, dentistry and infectious disease. The benefits of having suction during a procedure include increased patient comfort/safety, improved procedural ease/accuracy, and minimized infection risk. Many health facilities, such as those in low-income or developing regions, do not have access to suction canisters, which are disposable items, and thus a recurring cost.

The UNMC Department of Emergency Medicine, in collaboration with Nebraska Medicine's Biocontainment Unit, set out to develop a DIY procedural suctioning kit that uses any liquid impermeable bag as the collection vessel. The primary objective was to engineer a working prototype, then make all design schematics free online for anyone to download and produce their own procedural suctioning kit.

Having such a device in the open-sourced space could fill patient care gaps in developing regions while minimizing infection risk to the health care force. It could also function as an alternative solution for periods in which supply chains are limited.

Design Teams:
University of Nebraska Medical Center, Dept. of Emergency Medicine:
Thang Nguyen, PhD
Abraham Campos, MD
Michael Wadman, MD
Wesley Zeger, DO
Aaron Barksdale, MD
University of Nebraska Medical Center, Biocontainment Unit:
Kathleen Boulter
Angela Vasa
Shahnaz Benner
Morgan Shradar
Jackson Gruber
Cheryl Rand

All design schematics are available for download. If our designs are used in your projects/research, we ask for attribution to our design teams. Thank you.