Description
New device protects caregivers from viral exposure
A new protective device can help protect healthcare workers everywhere, preventing infected patients from spraying or exhaling viral agents and potentially infecting others in the room.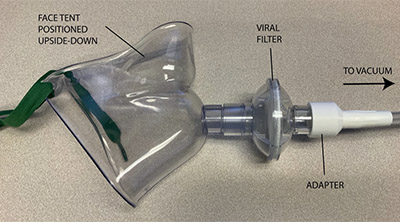 Developed by the chair of UNMC's Department of Anesthesiology, Steven Lisco, M.D., the Infectious Aerosol Capture Mask is a face tent that covers the patient's mouth and nose, and is then coupled with a viral filter and a special adapter that connects the unit to standard vacuum supplies in most clinical settings.

The Nebraska Medicine Innovation Committee has approved the device for use in its facilities, and has already deployed them in operating rooms and elsewhere in the hospital.

Hospitals risk wider contamination from COVID-19 patients when they cough or even just breathe. They produce microscopic particles that float through the air of their rooms, and potentially beyond. Even patients that have no symptoms may still unwittingly spread the virus in the same way, particularly when wearing supplemental oxygen or undergoing the procedures that insert or remove breathing tubes.

Dr. Lisco said in a recent announcement the device performed well in early tests, "catching more than 90 percent of airborne particles expelled in the mask, ultimately preventing the aerosol from entering the patient environment." He added: "Even when the vacuum wasn't turned on, the mask was still 85 percent effective as a barrier."

At this initial stage, the special adapter for the Infectious Aerosol Capture Mask is available for purchase through Omaha Custom Manufacturing at info@omahacustommfg.com or 800-228-5021. All other components are commonly accessible in most clinical settings and readily found through various medical equipment suppliers.

A future version of the technology will incorporate all components into one contiguous device, but that will not be available for purchase until later this year.