Description
Vaccine may signal beginning of end to Parkinson's disease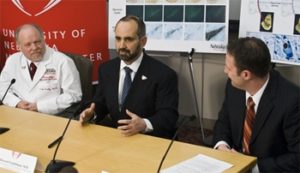 A novel combination developed by researchers at the University of Nebraska Medical Center may be the final solution that could deliver a knockout blow to Parkinson's disease.

Howard Gendleman, M.D., and his team believe they are on the verge of producing an effective vaccine to battle the debilitating disorder that affects more than 1 million Americans. Right now, the only treatment options for Parkinson's—the world's second-leading neurodegenerative disorder behind Alzheimer's—are methods for reducing symptoms.

But if Gendleman's approach succeeds, the immune systems of vaccinated patients will be armed to fend off the disease and prevent its disastrous effects.

The vaccine turns an old foe into a potential ally.

Vaccination with a protein, alpha-synuclein, alone actually has the ability to make Parkinson's even worse. But when the protein is paired with an immune modulator, it promotes an immune response that protects brain cells from further damage.

Preclinical studies show a remarkable 91 percent survival rate of neurons in treated laboratory mice. In January 2014, early stage clinical trial testing began on one of the vaccine's critical components. The early test will help determine if the immune system of a Parkinson's patient can be successfully modulated.

To discuss licensing opportunities please contact Matt Boehm, Ph.D., at mboehm@unmc.edu or 402-536-9881.