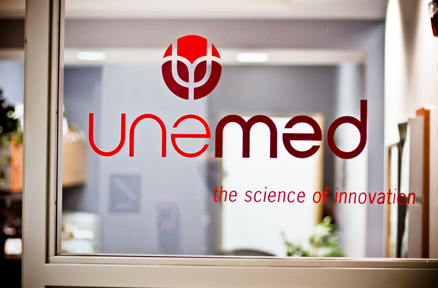 UNeMed is focused on developing and fostering relationships with industry to transfer UNMC intellectual property from the academic laboratory to the marketplace. Consistent with its focus, UNeMed continues to seek industrial licensing opportunities to enhance the development of its technologies and foster scientific breakthroughs at UNMC.
Our History
Established in 1991, UNeMed Corporation is the technology transfer leader for the University of Nebraska Medical Center (UNMC). UNeMed has a diverse technology portfolio that addresses significant medical and clinical needs in areas such as Therapeutics, Diagnostics, Medical Devices, Research Tools and Software.
Our Mission
UNeMed fosters and commercializes innovation at UNMC. Our employees work with the UNMC community to advance research and healthcare for the economic benefit of the University of Nebraska.
UNeMed Facts
A for profit company entirely owned by the Board of Regents of the University of Nebraska doing business as the University of Nebraska Medical Center
Currently offers an extensive portfolio of over 100 technologies available for licensing
Negotiates approximately 300 contracts per year enabling research and collaboration at UNMC
Download the 2015 Annual Report here.