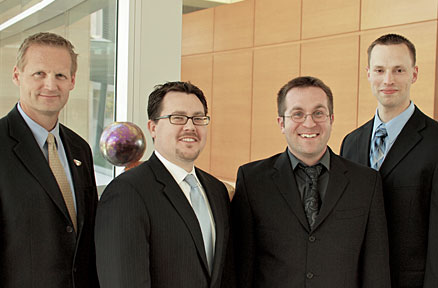 UNeMed executes license agreements, on behalf of the University of Nebraska Medical Center, in order to further develop and commercialize research at UNMC. UNeMed is able to offer industry experienced professionals, knowledgeable about the research at UNMC and experienced in working with industry. UNeMed can help work with industry partners to negotiate mutually-beneficial licenses and move technologies to market.
Licensing UNeMed Technology Offers Many Potential Benefits:
Significantly decrease time and resources devoted to research
Reduce time to market, boost profitability
Penetrate new markets and expand your business
Access technology developed by the experts at the University of Nebraska Medical Center
UNeMed License Agreements Generally Include the Following Elements:
License Fee
License fees are paid upon signing of the license. Generally, the less investment required to bring the technology to market the greater the License fee. If significant research or development is required to bring the technology to market the Licensing fee will often be reduced.
Patent Reimbursement
For technologies that are patented, UNeMed expects the licensee to pay fees to reimburse patent costs. When foreign applications are filed, patent reimbursement may be higher to recoup the additional costs.
Development Period
If a technology is not ready for market or if additional development is otherwise required then UNeMed license agreements can provide for a development period. Prior to executing the license the licensee must submit a technology development plan. During the life of the license, the licensee must submit periodic development reports. Development reports enable UNeMed to document that the licensee is actively developing the technology, which is a requirement for licensing federally funded research. Licenses for technologies requiring long development periods, such as pharmaceuticals, will also include progress milestones. Milestones may include regulatory filings, achievement or research goals or milestone payments. Milestones allow UNeMed to reduce initial license fees for early-stage technologies by monitoring the progress of licensees as they develop technology.
Royalties
When the licensee sells products utilizing the technology the licensee pays fees to UNeMed. Typically, royalties are calculated on a percentage-of-sales or fee-per-unit basis.
Milestone Fees
Depending upon the type of technology licensed, UNeMed may require that in addition to royalties, milestone payments are made as the licensee develops the technology for commercialization
Minimum Royalty
For royalty-bearing licenses, UNeMed requires that the licensee pay at least a certain dollar amount of royalties — regardless of the number of products sold. Minimum royalty rates generally reflect a minimum amount of expected sales and are intended to motivate the licensee to sell products utilizing licensed technology. Minimum royalties are offset by royalties paid by licensees and are never an additional fee paid on top of royalties.