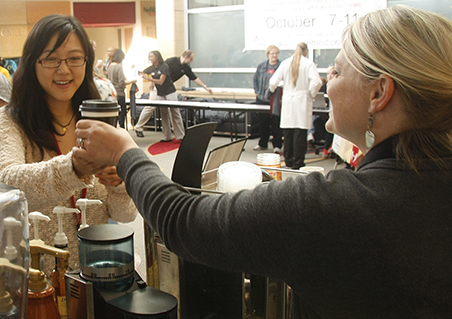 Ninth Annual Innovation & Research Week: October 19-22
Every fall, UNeMed sponsors Innovation Week, a popular series of events that honor innovators at UNMC, and helps educate and inform faculty, staff, and students.
In addition to an awards ceremony, Innovation Week also raises awareness about technology transfer relevant subjects, including intellectual property, sponsored research opportunities, collaborating with industry partners, and research funding opportunities.


News and Updates
Dr. Kielian honored as Innovator of Year – UNMC Today
Innovation Awards Program 2015
Demo Day 2015 highlights UNMC innovations
Gadgets and gizmos a-plenty: UNMC expo shows off cutting-edge medical training tools – Livewell Nebraska
Demo Day highlights UNMC advances – UNMC Today
Standardized patients make mission SimPossible – A Day in the Life at UNMC
Raw sewage, unicorns and grad school
iEXCEL Expo: The future of health care education – UNMC Today
Under the Microscope: Dixon chats with Dr. Gold
Panel discusses career options for grad students
Innovation Week kicks off
Innovation and Research Week begins today – UNMC Today
See next gen medical training tools at iEXCEL Expo
I-Week panel to discuss alternate science careers
Adam Ruben headlines Innovation Week event
Speaker takes humorous look at grad school, science – UNMC Today
Demo Day is set for Oct. 21
Innovation Week 'Kicks Off' Monday!
Innovation and Research Week at UNMC is Oct. 19-23
Adam Ruben: Surviving Your Stupid, Stupid Decision to Go to Grad School Registration
UNMC Technology Demo Day Registration
Innovation Awards Registration
2014 Innovation Week
2013 Innovation Week
---
Schedule of Events
Download: Innovation and Research Week Schedule 2015

Additional Information
Download the 2015 Innovation Awards program here. or view it here.
UNeMed-Sponsored Events
Research Week Events
Mon, Oct 19
12-1 p.m.
COPH 3013
What do I do with all this Data? Biomedical Informatics Resources
Chittibabu (Babu) Guda, PhD; Ashok Mudgapalli, PhD
12-1 p.m.
BTH 2020
Clinical Research 101: How do I get started?
Christopher J. Kratochvil, MD; LuAnn Larson, RN, BSN, CCRP; Karla Klaus, BS
1-2 p.m.
COPH 2007
VA Funding Opportunities & Research Resources
Frederick Hamel, PhD
3-4 p.m.
DRCI 1005
McGoogan Library: Resources for UNMC Researchers
Cindy Schmidt, MD
4-5 p.m.
MSC 2010
Being a Good Mentor: Experiences and lessons for mentors by mentors
Iqbal Ahmad, PhD; Tatiana K. Bronich, PhD; Keith R. Johnson, PhD; Shelley D. Smith, PhD, FACMG; Irving Zucker, PhD
Tues, Oct 20
9-10 a.m.
DRCI 1006
What do I do with all this Data? Biomedical Informatics Resources
Chittibabu (Babu) Guda, PhD; Ashok Mudgapalli, PhD
10:30-11:30 a.m.
DRC 1006
Grant Resource Library: A resource you should know about…
Max Kuenstling, MS
12-1 p.m.
MSC 1005
Developments in The Greater Plains Collaborative: A Big Data system for Comparative Effectiveness Research
James C. McClay, MD
12-1 p.m.
DRC 1006
Training Grants 101: Common Questions and Answers
H. Dele Davies, MD, MHCM; Jennifer Black, PhD; Karen A. Gould, PhD
4-5 p.m.
MSC 2010
Rewriting Our National Narrative: Health as a Central Theme
Jane Meza, PhD
7-8 p.m.
MSC 1005
"Public Perception of Science: Lessons from a Dead Sheep"
UNeMed
Wed, Oct 21
10-11 a.m.
COPH 2001
Our New Research Data Center: What it is and How to Get Involved
John E. Anderson, PhD
10:30 a.m.-Noon
DRC 1006
Principles of Effective Writing for Grants and Manuscripts
Adrian E. Koesters, MFA, PhD
12-1 p.m.
MSC 2014
Gathering Research Data Using the Free Online Database Tool, "REDCap," and Harnessing REDCap Features for Managing Your Research Project
Michael Gleason, PhD; Ashlee Portelli-Trinidad, MPA
1-2 p.m.
DRC 1005
Tools to Help you Find Funding Opportunities & Collaborators
Linda Wilkie, BS, VT
2-3 p.m.
DRC1005
Working with a Biostatistician: How should you prepare?
Jane Meza, PhD; Fang Yu, PhD
3-4:30 p.m.
COPH 2001
Forming a Community Advisory Board: Strategies and Benefits for Community-Based Research
Mary Cramer, PhD, RN, FAAN; Stephen Lazoritz, MD; Ken Shaffer, MD; Alan Stern, BS; Members of Central Nebraska Prenatal Advisory Board
Thur, Oct 22
10-11 a.m.
MSC 1005
Grant Resource Library: A resource you should know about…
Max Kuenstling, MS
11 a.m.-Noon
MSC 1005
Electronic Health Record Access Core: How to request the data you need…
Purnima Guda, PhD
11:30 a.m-1 p.m.
WSH 3034
Strategies for building a Clinical Research Budget
LuAnn Larson, RN, BSN, CCRP; Katie Penas, MHA, CNMT, RT(N)
12-1 p.m.
MSC 1005
The National Strategic Research Institute: Funding & Innovation Opportunities
Robert Hinson, USAF, Lt. Gen. (Ret.); William Charlton, PhD
Fri, Oct 23
8 a.m.-Noon
DRCI & II
Technologies to Advance your Research: Meet your Core Director
UNMC Vice Chancellor for Research Office
10 a.m.-2 p.m.
WH 6th Floor
3D Printing and the Digital Commons Open House
McGoogan Library of Medicine
10 a.m.-2 p.m.
UT 3480
Clinical Research Center Open House
UNMC Vice Chancellor for Research Office
12-1 p.m.
Storz Pavilion
Brown Bag Lunch: "Clinical Trials: Why are they important?"
Christopher J. Kratochvil, MD; LuAnn Larson, RN, CCRP
1:30-2:30 p.m.
DRCI 1002
New Umbrella Admission Program: Opportunities for recruiting new students
H. Dele Davies, MD, MHCM