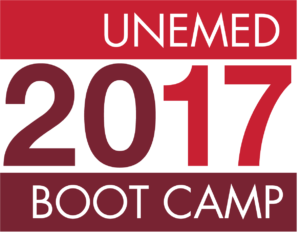 OMAHA, Neb. (July 26, 2017)—UNeMed's 2017 Technology Transfer Boot Camp program is set for August 15-18. The Boot Camp is particularly aimed toward scientists interested in getting away from the bench, but continuing their scientific pursuits in technology transfer activities.
UNeMed's four-day training program help's scientists gain a wider range of technology commercialization skills and experience that matches their scientific knowledge and training.
The program will be held from 8 a.m. to noon beginning Aug. 15 and concluding Aug. 18.
The program is designed to provide information across a range of technology transfer relevant areas, including:
Evaluating new inventions
Intellectual property law
Marketing and commercialization
Contract negotiation
Rather than provide a series of lectures, UNeMed's tech transfer boot camp will dive into more hands-on activities. Activities will highlight real-word situations, and help illustrate key aspects of the technology commercialization process.
Anyone at UNMC is encouraged to apply and participate free of charge. Non-UNMC affiliates are also welcome, but will be charged $200 upon acceptance.
Applications will be accepted until Aug. 10, and will be reviewed in the order they are received until all spaces are filled. If the embedded form does not properly display below, the application may be accessed here.
More information about the program and the application process can be found at https://www.unemed.com/about-us/join-our-team.