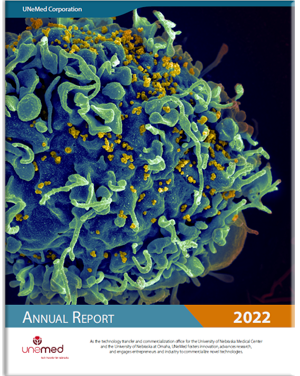 OMAHA, Nebraska (October 10, 2022)—UNeMed released today its 2022 annual report, detailing key metrics, highlights and notable achievements during the fiscal year ending in 2022.
The report focuses on UNeMed's most recent highlights, including success stories related to startups RespirAI Medical, Virtual Incision, and Exavir Therapeutics.
RespirAI is a startup built on a University of Nebraska at Omaha innovation that could help patients suffering from chronic obstructive pulmonary disease, or COPD. Near the end of the calendar year, RespirAI closed a successful financing round worth almost $1 million.
Virtual Incision, a surgical robotics company built on a collaboration between a former University of Nebraska Medical Center surgeon and a University of Nebraska-Lincoln engineer, announced plans of an up-coming clinical trial. To date, Virtual Incision has raised more than $100 million.
Exavir Therapeutics also announced a successful financing effort, closing a seed round with $4 million in investments, led by AlleyCorp and Gilead Sciences. Exavir was co-founded by UNMC researchers Howard Gendelman, MD, and Benson Edagwa, PhD, who are working on ultra-long-acting antiretroviral therapies for HIV.
The annual report also looks back at new initiatives UNeMed launched or joined during the previous fiscal year, such as their first "Back-o-the-Napkin" contest, the "Innovations & Libations" networking event, and a national program geared toward helping build the local entrepreneurial ecosystem.
In addition to presenting core metrics for all of UNeMed's activities, the annual report also features several portfolio technologies with great potential for additional development.
The complete annual report can be viewed online, and printed copies are also available. Contact UNeMed to receive a free printed copy.