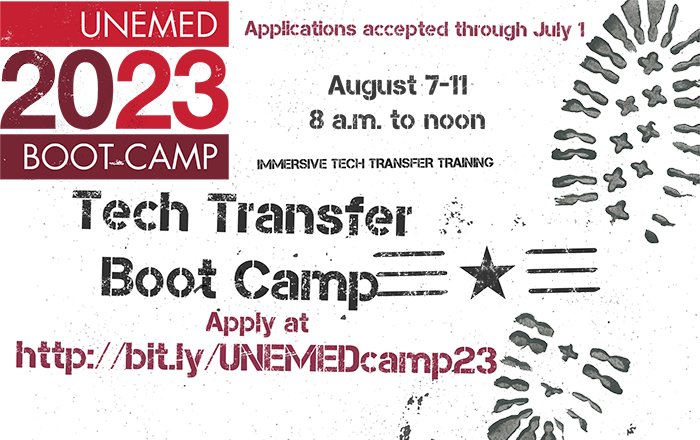 OMAHA, Nebraska (May 1, 2023)—UNeMed will again host a Technology Transfer Boot Camp, to be held Aug. 7-11.
The Technology Transfer Boot Camp is aimed at scientists and students interested in the process of commercializing an academic innovation or discovery. The week-long series of seminars and hands-on training can help jump-start an alternate career in science as a technology transfer professional.
The program helps scientists gain a wide range of skills and experience to match their scientific knowledge and training.
The Boot Camp focuses on several key areas relevant to a successful career in technology transfer, including:
Invention evaluation
Intellectual property law
Marketing and commercialization
Contract negotiation
UNeMed's 2023 Technology Transfer Boot Camp will dive deeper than simple lectures. Topics will be explored with hands-on activities meant to teach new skills and abilities.
Anyone within the University of Nebraska system is encouraged to apply and participate free of charge, but space is limited. People who aren't affiliated with the University of Nebraska are also welcome, but will be charged $200 upon acceptance.
Applications are open through July 1, and will be reviewed in the order they are received until all spaces are filled.
Use the embedded form below or apply here: https://docs.google.com/forms/d/e/1FAIpQLSf5j7HSF6qfRnqS6VUlp1L5QvrcXIM1asPq36fxlnGp1mkrAQ/viewform?usp=sf_link.
More information about the application process and requirements can be found at https://www.unemed.com/about-us/join-our-team#bootcamp.