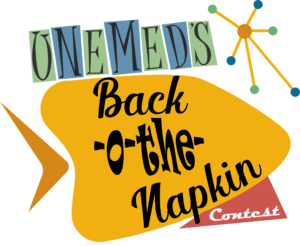 OMAHA, Nebraska (September 9, 2021)—A new contest is open to all faculty, students and staff who have ideas for innovative medical devices.
Sponsored by UNMC's technology transfer and commercialization office, UNeMed, the "Back-o-the-Napkin Contest" will accept entries throughout the fall until the New Year.
Find entry forms at the James and Karen Linder Maker Studio within the Leon S. McGoogan Health Sciences Library, who is co-sponsoring the contest. Entry forms, designed to resemble actual napkins, ask that inventors draw and describe their ideas. All novel innovations will be rendered into a three-dimensional model.
The top three innovations will win additional support with a professionally engineered and designed prototype. The prototype stage is a common hazard for inventors because prototypes can be costly to create. Yet they are essential for attracting additional support and financing for further development.
The 3D modeling and prototyping will be provided by co-sponsors UNeTech and the Center for Innovation Entrepreneurship and Franchising at the College of Business at the University of Nebraska at Omaha.
In addition to the McGoogan Library, entry forms will be available at UNeMed, UNeTech and within various departments around campus.
Submit completed entry forms to UNeMed via campus mail. For digital entries, scan and email completed forms to unemed@unmc.edu.
Direct any questions or request additional entry forms at tyler.scherr@unmc.edu.