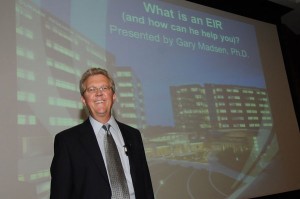 OMAHA, Neb. (Feb. 13, 2013)—"Commercialize your technology: How to bring a product to market" is the title of the second talk given by Dr. Gary Madsen since joining UNeMed as Entrepreneur in Residence last June. His first talk, "What is an EIR and how can he help you" was given at this year's Innovation Week and introduced the focus and goals of his new position.
The new talk, scheduled for Monday, February 18, is more of a "how to" guide for faculty members to follow when commercializing their technology through a newly formed company.
Before jumping headfirst into a new commercial venture, Dr. Madsen discusses some factors to consider in favor of and against starting a new company. He then methodically takes each step of the new company's pathway and discusses the most important aspects for founders to focus on.
The seven steps in the process he describes include everything from obtaining a license to implementing a marketing team and sales channel, and everything in between. The talk will be informal and open to lots of questions and discussion.