Two-day event returns on Oct. 5-6
OMAHA, Nebraska (January 6, 2020)—Due the continued success and popularity of the MidWest Drug Development Conference, the event will return for a third year and registrations are now open, planners announced today.
The conference will again span two days, featuring Midwestern university technologies, beginning on Monday, Oct. 5, and concluding the following day, Tuesday, Oct. 6. The same venue—the Capital District Marriott in downtown Omaha—will house the event.
Register here for the 2020 MidWest Drug Development conference. Cost is $500 per ticket, but a limited number of registration fees will be waved for attendees that represent pharmaceutical firms, investment groups or other parties interested in supporting early-stage therapeutics. Contact conference organizers to learn how to receive a waiver code.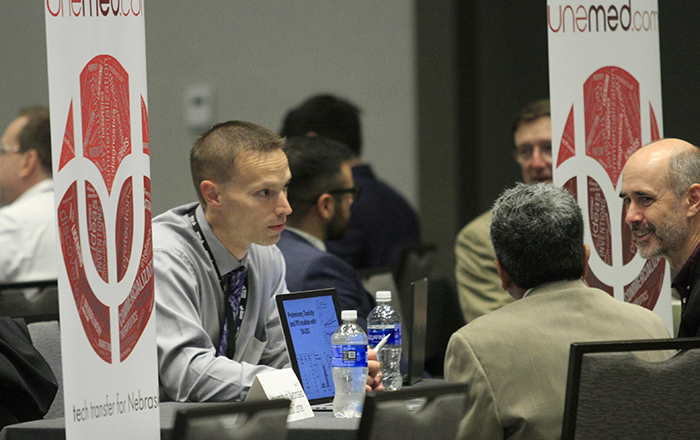 The list of participating universities has not yet been released, but a mix of returning and new institutions are expected, planners said.
"We had another great turn-out, and interest seems to grow each year," primary organizer Matt Boehm said. "We long suspected there might be a need for this type of event, and this has been demonstrated by its continued popularity among participating universities as well as pharmaceutical companies and investment groups."
With the dates and venue set for 2020, universities and other research institutes are invited to apply for inclusion among a limited supply of coveted presentation slots. A list of participating universities will be announced soon, Boehm said.
Subscribe here to receive updates about participating schools and other important news related to the 2020 MidWest Drug Development Conference.
Last year, a dozen universities presented 42 new, drug-related technologies in short, 10-minutes packages. The audience was a collection of pharmaceutical companies, biotech companies, venture capital groups and other potential partners who could help further develop those new technologies.
In previous years, participating institutions included Colorado, Colorado State, Iowa, Iowa State, Kansas, Kansas State, Mayo Clinic, Missouri, Nebraska, Notre Dame, Ohio State, Oklahoma, Purdue, South Dakota, Wisconsin's WARF, and Washington University in St. Louis.
Last year's group alone accounted for more than a combined $6.65 billion in research expenditures and 2,875 new inventions in 2017, according to the most recent data available.
All told, 111 people attended the two-day conference in 2019, including representatives from 30 companies and investment groups. About 240 one-on-one partnering meetings were scheduled over the two-day conference.