by Tyler Mueller, UNeMed
OMAHA, Neb. (October 21, 2015)—A combination of six technologies and startup businesses were presented to an estimated audience of 65 during Demo Day.
Part of UNeMed's Innovation Week, Demo Day features new up-and-coming projects in the science and healthcare industry. Watch the presentations on YouTube.
Jeff Hanson of Aviture started the presentations with PortCas, a portable laparoscopic surgical simulation platform developed at the University of Nebraska Medical Center.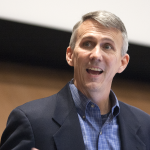 The PortCas, or Portable Camera Aided System, is designed to train medical students in laparoscopic surgery through the use of a simulation. Users operate laparoscopic tools in a space the size of a small suitcase to carefully set rings around pegs through a virtual interface similar to a video game. Users are scored on the speed and smoothness of each hand. A web interface also allows advisors to track a user's progress and offer feedback.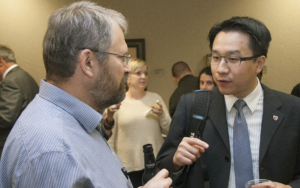 "The idea of PortCas is pretty basic," said Joseph Siu, Ph.D., who is working with Hanson on the PortCas. "If we can move a humongous, $100,000 simulator, move it into tiny boxes, and make it cheap enough for every medical student in the world to have one, then we've met our goal."
The PortCas is one of the inventions being developed by Aviture through The Garage, an environment setup to assist web-based startups into successful companies.
Prommune Inc. CEO Sam Al-Murrani, Ph.D., presented a platform technology developed by Sam Sanderson, Ph.D., that boosts the immune system to fight disease and infections.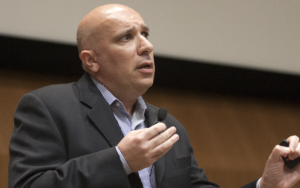 Dr. Al-Murani said the technology is unique because it's a naturally occurring protein, versatile, easy to manufacture and easy to store and use.
"It can be used in a myriad of ways with almost anything you can think of," Dr. Al-Murrani said.
The technology isn't designed to replace antibiotics but work in conjunction with them to enhance the response and fight infections and diseases.
The technology is currently in a clinical trial as a vaccine for pigs against the H1N1 virus, also known as the Swine Flu. Continued success in the animal market could eventually lead to human trials.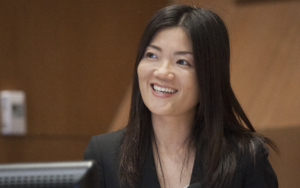 Qian Zhang, Ph.D., of UNeMed presented the Portable Laparoscope, an invention of Chandra Are, M.D.
The Portable Laparoscope is an all-in-one laparoscopic suite, emulating the process without the need for the dedicated space, other pieces of equipment, or multiple assistants. A typical laparoscopic operating room can cost up to $500,000.
The Portable Laparoscope is designed to help developing countries overcome the cost barrier, and allow laparoscopic procedures in remote locations where an operating room is inaccessible, such as the battlefield.
Evan Luxon presented Esculon, a medical device incubator, and Thoraguard, a product currently under development at Esculon.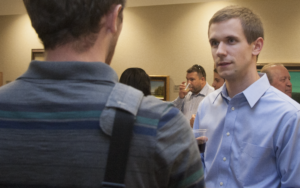 Thoraguard is an innovative approach to the chest tubes used to drain fluids. The tubes are prone to clogging, causing Retained Blood Complex, which doubles the mortality rate, increases the length of stay in patients by about a week, and increases the costs to care for a patient by about $30,000. Larger tubes cut down on clogging but bring about a different set of problems, such as increased infections and damage to surrounding organs.
"These devices haven't been updated in about 50 years," said Luxon. "You can imagine what the state of cardiac surgery has done since then."
Thoraguard, an automated add-on to current chest systems, uses the smaller tubes without the complications of clogging.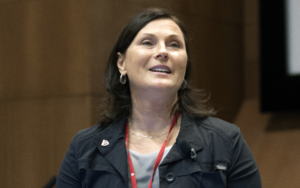 Valeriya Kettelhut, M.D., Ph.D., presented a system to track infections in hospitals and other high-risk environments, such as transport centers, cancer centers, and long-term facilities.
The Tactical Biosurveillance, or TBios, is a system to map and alert users of high-risk environments.
TBios uses a web interface to visualize data that features a heat map overlay on a site-specific floorplan. With little more than a glance, interface helps facility personnel identify high-risk areas, patients or even rooms. The interface can even help them understand which workers might be at the higher risk to catch or further spread an infection.
Mike Draper, CEO of Center Ridge Holding LLC, presented CleanCore, an innovative cleaning technology that uses water infused with ozone gas for an environmentally-friendly cleaning solution.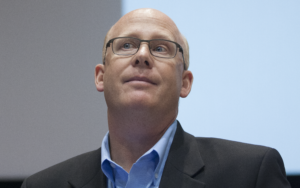 "Think about how we use chemical today," said Draper. "Our overuse of chemicals and anti-microbial products are contaminating ourselves, our water, our air, our ground, and creating new contaminants in our environment."
Draper said CleanCore insignificantly easier to use. Instead of numerous chemicals for different surfaces and different handling and safety practices, CleanCore is a one-step, easy-to-use system.
Draper said one study predicted that if 20 percent of K-12 schools used CleanCore instead of traditional chemicals, it would offset the emission of over 58,000 vehicles for five years, lessen dependence on foreign oil by over 385,000 barrels, or provide enough energy to power the homes 56,000 homes for five years.
"That's a city the size of Flint, Michigan, or Sioux City, Iowa," Draper said.