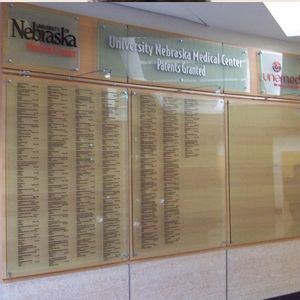 OMAHA, Neb. (June 24, 2009)—The accomplishments of UNMC researchers are now acknowledged on new plaques displayed on the ground floor of the Durham Research Center.
One part of the display recognizes all UNMC inventors who have been granted a patent by the United States Patent and Trademark Office since 1981.The joint project — sponsored by UNeMed, the technology transfer leader for UNMC, and the Vice Chancellor for Research offices — honors inventors and Distinguished Scientists at UNMC.
"Receiving a patent is a significant accomplishment, we thought it appropriate that researchers on campus have the opportunity to see the achievement of their peers," said Jim Linder, M.D., CEO of UNeMed Corporation.
"We also thought that this is a good reminder that patents are recognized by the promotion and tenure committees of each college," said Michael Dixon, Ph.D., president of UNeMed.
The wall currently displays 163 patents granted to UNMC from 1981 through 2008 and honors 145 inventors, many who have multiple patents to their credit.
Each year new names and patents will be added. UNeMed honors these inventors with the annual Innovation Awards Ceremony. This year's ceremony is scheduled for Oct. 1.
In addition to the patent display, those honored as Distinguished Scientists and the Scientist Laureate also are listed.
Tom Rosenquist, Ph.D., vice chancellor for research at UNMC, is pleased with the public display to recognize the achievements of these medical center investigators.
"Part of the process of recognition of our most successful scientists is our having a daily, tangible reminder about who they are, and what they have accomplished," Dr. Rosenquist said. "The busy elevator lobby of the DRC is the perfect place for this display."
Seventy-five researchers have been named Distinguished Scientists or Scientist Laureates since the program's initiation in 2006.
A portrait and biography of the current Scientist Laureate is prominently displayed, and will be changed each year with the new appointment.