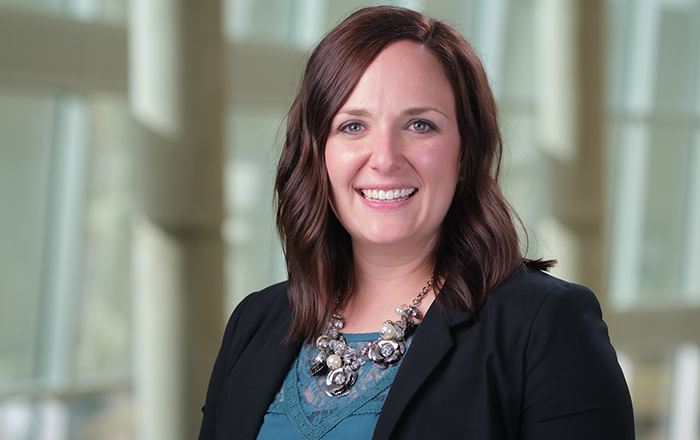 OMAHA, Nebraska (May 15, 2023)—Breanna Hetland, PhD, an Assistant Professor in UNMC's College of Nursing, landed one of 16 spots in a prestigious national fellowship program for innovative leaders in nursing.
Dr. Hetland will join the fourth cohort of the Betty Irene Moore Fellowship for Nurse Leaders and Innovators, headquartered at the University of California-Davis nursing school. The three-year fellowship includes a $450,000 grant.
"This incredible opportunity will allow me to build skill in leading change and bringing new innovations to nursing practice and policy," Dr. Hetland said. "In addition, I'll have dedicated time, interprofessional mentorship, and the financial and professional resources to optimize, test, and commercialize the app."
The "app" is Dr. Hetland's innovative idea for a digital platform called The Family Room, which enables and promotes more robust patient and family engagement during acute hospitalizations.
"As an ICU nurse, I've held many hands of patients and their families as they struggled to navigate the most traumatic experience of their lives…an ICU admission," Dr. Hetland said during a recent presentation. "Then I became the daughter of an ICU patient and it profoundly changed me. The Family Room App is the result of my experience: A passionate effort to vastly improve the hospital experience for patients and their families."
UNMC Chancellor Jeffrey P. Gold. MD, congratulated Dr. Hetland on the fellowship.
"Innovation, which this fellowship recognizes, is an important facet of our mission at UNMC," he said. "But innovation only becomes effective when it impacts the lives of the people we serve. Dr. Hetland's app, aimed at easing patient and family stress during critical medical situations—and inspired by her own experience—is a perfect example of this type of innovation."
In the last few months Dr. Hetland's innovation has led to several accolades, including her acceptance into a selective entrepreneur-mentoring program. She was also recently awarded the Harriet H. Werley New Investigator Award by the Midwest Nursing Research Society.
"We suspected that Dr. Hetland was onto something really interesting when she first brought the idea to us five years ago," UNeMed Licensing Specialist and Business Development Manager Tyler Scherr, PhD, said. "Working with such passionate and gifted innovators like her is the best part of my job. She deserves every bit of this recognition, because it really has been a long slog, but her hard work is finally paying off. I believe the healthcare experience for both patients and caregivers will be immeasurably better because of her and this project."
In addition to project funding, the Betty Irene Moore Fellowship program features educational and mentoring components to enhance leadership and innovation capacity, strengthen strategic thinking and collaborative skills, expand professional networks, develop entrepreneurial skills, and propel innovative ideas to the bedside.
In January, Washington University in St. Louis announced that Dr. Hetland had been selected to join the 2023 cohort of the Equalize mentoring program. Equalize is a national mentoring program designed to increase the number of female academic inventors who develop startup companies to commercialize their inventions.
Shortly after, Dr. Hetland added the Harriet H. Werley New Investigator Award, which recognizes new contributions in nursing research that has the potential to enhance the science and practice of nursing. Dr. Hetland is the first Nebraska recipient of a Midwest Nursing Research Society award since 2009.
UNeMed is the technology transfer and commercialization office for UNMC and UNO, helping faculty, staff and student inventors protect and develop their innovations and discoveries into real-world applications.