OMAHA, Nebraska (August 26, 2022)—The annual Research Innovation Awards Banquet will return as an in-person event during UNeMed's annual Innovation Week in October.
Entering its 16th year, the Innovation Awards is scheduled for Thursday, Oct. 13, at the Hilton Omaha located near 10th and Cass Streets in downtown Omaha.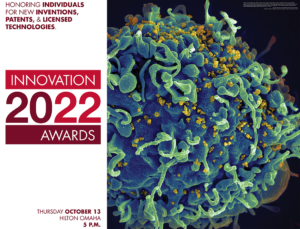 An invitation-only event, the program will begin with a networking cocktail hour at 5 p.m., followed by the awards ceremony. The ceremony will honor all UNMC and UNO inventors who disclosed a new invention, received a U.S. patent, or had their technology licensed  during the previous fiscal year.
UNeMed, the technology transfer and commercialization office for UNMC and UNO, will also present special awards recognizing an Emerging Inventor, the Most Promising New Invention of the Year, and a Startup of the Year.
The Innovation Awards is the culmination of a full week of events that are meant to celebrate and enhance innovation at UNMC and UNO.
Innovation Week will begin Monday, Oct. 10, with a Kick-Off in the DRC atrium where UNeMed staffers will give away free T-shirts, doughnuts, coffee and other goodies.
Other planned events include informational seminars about technology transfer for new investigators (Oct. 10), drug discovery funding opportunities (Oct. 11), intellectual property and funding considerations for software innovations (Oct. 12), and SBIR/STTR funding (Oct. 13).
Two networking events are also planned, starting with "Idea Pub: Innovations and Libations" on Oct. 11 and a "Faculty Entrepreneurship Mixer" on Oct. 12. Both events should help University innovators and researchers connect with new colleagues and community members for more powerful collaborations.
All Innovation Week events are free and open to all, except the Awards ceremony, which is by invitation only. Invitations will be sent within the next two weeks.
UNeMed will announce more details about all Innovation Week events, including times, locations and speaker profiles.
Learn more about Innovation Week and view a tentative schedule of events at https://www.unemed.com/innovation-week.