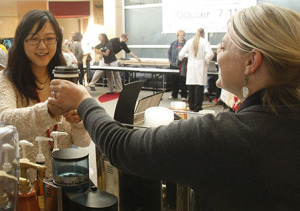 OMAHA, Neb. (Oct. 23, 2017)—Innovation Week kicks-off today in the Durham Research Center atrium at 9-11 a.m.
The Kick-Off will feature free pens, T-shirts and a chance to mingle with UNeMed staff. Jo-on-the-Go will also be on hand, providing complimentary espressos and smoothies to all attendees.
Innovation Week is a series of events hosted by UNeMed to celebrate and honor the innovations and discoveries at UNMC each year.
Innovation Week continues Tuesday, Oct. 24, with a panel discussion about the biomedical applications and implications of the CRISPR/Cas9 gene editing tool. Panelists will include UNMC researcher Channabasavaiah Gurumurthy, Ph.D., and patent attorney Bill Adolfsen, Ph.D. That event is set to begin at 1:30 p.m. in the Yanney Conference Center located on the ground floor of the Fred and Pamela Buffett Cancer Center.
Also Wednesday in Yanney Conference Center, UNeMed's Director of Intellectual Property, Jason Nickla, J.D., will lead a hands-on workshop on how to run patent searches. The workshop is planned from 3-5 p.m. A light snack and refreshments will be provided.
Innovation Week continues Wednesday, Oct. 25, when BioNebraska hosts a luncheon and networking session celebrating "Nebraska Women in science, technology, engineering and math." The luncheon will be at the Quarry Oaks Golf Club in Ashland, Neb., at noon=-2 p.m. Cost per ticket is $25. Contact Phil Kozera at pkozera@bionebraska.org or 308-440-8828 to RSVP.
Innovation Week's main event is on Thursday, Oct. 26, when UNeMed hosts the Research Innovation Awards Banquet. The ceremony will recognize all those who were issued a new patent, licensed a technology, or developed a new invention over the previous year. UNeMed will also present special awards for the "Most Promising New Invention" of 2017 and the "Emerging Inventor." The Awards will be at the Michael F. Sorrell Center in the Truhlsen Campus Events Center beginning at 5 p.m. Contact UNeMed to request an invitation.
Finally, Innovation Week concludes Friday, Oct. 27, with a panel discussion about alternate career options for scientists away from the bench. The panel will also meet in the Yanney Conference Center, beginning at 11:30 a.m. Free lunch will be provided to the first 50 guests.
Learn more about all Innovation Week events at https://www.unemed.com/innovation-week.