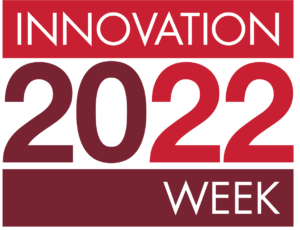 OMAHA, Neb. (October 10, 2022)—Innovation Week begins this morning when UNeMed staffers host the Innovation Week Kick-Off in the Durham Research Center atrium from 9-11 a.m. Shortly after, UNeMed will also host a Tech Transfer 101 panel discussion at 11:30 a.m.-12:20 p.m.
Kick-Off is an open house that features giveaways, T-shirts and a chance to mingle with UNeMed staff. Complimentary coffee and a free doughnut will also be provided all attendees, as long as supplies last.
The panel discussion, to be held in Room 1004 of the Durham Research Tower I, will feature several UNeMed staff who will discuss key points of innovation and commercialization in academia. The event is aimed at anyone interested in developing innovations beyond something that only lives in an academic journal or the back of a napkin.
The Great Plains IDeA-CTR will provide a free lunch to the first 30 guests.
Innovation Week is a series of events hosted by UNeMed to celebrate and honor the innovations and discoveries at UNMC and UNO each year.
Innovation Week continues Tuesday with two more events, starting at noon, with a virtual seminar entitled, "Academic Drug Discovery Support." Maaike Everts, PhD, the executive director at Critical Path's Translational Therapeutics Accelerator will lead the hour-long discussion. Anyone may join the session via Zoom at https://bit.ly/Iweek22DrugDiscovery.
Then, at 4-6 p.m., UNeMed and the Omaha Chamber of Commerce will host a networking event, "Idea Pub: Innovation & Libations," at Rathskeller Bier Haus. Idea Pub is aimed at University entrepreneurs and inventors, along with potential investors and commercial partners from the region.
Two additional events are set for Wednesday, Oct. 12.
Starting at 9 a.m., in the Wigton Heritage Center atrium, UNeMed will host a Faculty Entrepreneurship Mixer. It will feature UNMC researcher-inventor-entrepreneur, Dong Wang, PhD, who will present brief remarks about his experience starting and developing a new company around his innovations. Co-sponsor IDeA-CTR will provide coffee and doughnuts on a first-come, first-served basis.
At noon, a panel discussion will cover issues related to software intellectual property and commercialization. This event will be held at Maverick Landing on UNO's Scott Campus. A complimentary lunch will be provided to the first 30 guests.
Innovation Week wraps up on Thursday, Oct. 13, with two more events.
At noon, UNeMed will host a discussion about the federal SBIR/STTR Grant program, where expert panelists will cover best practices for those awards. The panel will be at UNO's main campus at the Weitz Community Engagement Center, and complimentary lunch will be provided to the first 30 guests.
Finally, Innovation Week culminates Thursday evening with the Innovation Awards at Hilton Omaha, located near 10th and Cass Streets in downtown Omaha.
An invitation-only event, the Awards program will begin with a networking cocktail hour at 5 p.m., followed by the awards ceremony. The ceremony will honor all UNMC and UNO inventors who disclosed a new invention, received a U.S. patent, or had their technology licensed during the previous fiscal year.
UNeMed will also present special awards recognizing an Emerging Inventor, the Most Promising New Invention of the Year, and a Startup of the Year.
Based at UNMC, the Great Plains IDeA-CTR stands for the National Institute of Health's Institutional Development Award program infrastructure for Clinical & Translational Research. The Great Plains IDeA-CTR is a collaborative effort between nine regional institutions that provides training, resources, education, mentorship and funding to regional researchers.