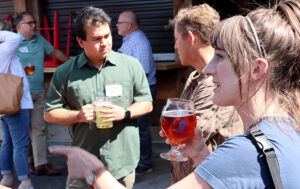 OMAHA, Nebraska (July 14, 2022)—UNeMed presented its first Innovations and Libations networking event Tuesday night, hosting a lively group of University innovators and key members of Omaha's entrepreneurial community.
Michael Dixon, PhD, president and CEO of UNeMed, the technology transfer and commercialization office for UNMC and UNO, was pleased with the robust turnout.
"We had no idea what to expect, especially with it being the first time for this event, so seeing all of the attendees interacting and engaging was really encouraging," he said. "We enjoy hanging out with innovators and entrepreneurs, and that's one thing we've really been missing these last few years. So we wanted to bring everyone together. I saw lot of folks getting together with people they might not normally come into contact with, and that's exactly what we were trying to do."
Co-sponsored with UNeTech and the Great Plains IDeA-CTR, the informal event was created as a way to help University inventors build new connections and potential collaborations. Attendance included inventors from both UNMC and UNO, in addition to several people from the private and governmental sectors, which included local manufacturing, engineering and funding organizations.
"This is great," said James Hermsen, a local entrepreneur with an engineering background. "I'm talking to some biologists and it's really cool to talk to people in different fields. We're kind of the same in a way, because we all want to solve problems and help people."
Hermsen and his startup SH Strap, is the product of an unlikely collaboration with former UNMC pediatric ophthalmologist, Donny Suh, MD. Now at UC Irvine, Dr. Suh and Hermsen created a company that makes, among other things, special eyeglasses for children who can't physically wear traditional eyeglasses.
Planners hope the overall success of the event could kindle more fruitful collaborations for University innovators. The success could also mean the event will return, perhaps as soon as this fall.
"Our attitude is, 'Get out and meet new people, learn new things and make the world a better place,'" Dixon said. "If this kind of event is enough to get just two new collaborators bouncing ideas off each other, then this is well worth the effort."
Innovations and Libations was hosted at the Ratherskeller Bier Haus located near the intersection of Saddle Creek and Farnam Streets, and all guests received a complimentary drink during the event.