OMAHA, Neb. (May 6, 2015)—ProTransit Nanotherapy, an Omaha biomedical startup formed around technology invented at the University of Nebraska Medical Center, recently won an online competition that will give it a rather large megaphone.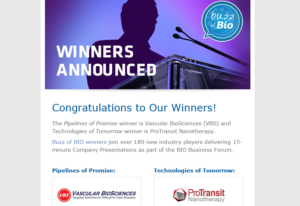 The victory means ProTransit Nanotherapy will gain two rare chances for international exposure at the world's largest biomedical exposition when the BIO International Convention convenes in Philadelphia next month.
ProTransit Nanotherapy won the "Buzz of BIO Technologies of Tomorrow" category by a wide margin, unofficially finishing with 892 votes, more than 150 better than the runner-up's final tally of 736.
As part of the prize package, ProTransit CEO and co-founder Gary Madsen, Ph.D., will get an opportunity to deliver a company presentation to a global audience of potential investors, and then sit down in one-on-one partnering meetings with potential industrial partners and investors. Dr. Madsen will also receive free admission to the annual convention for a total package worth about $4,500.
But the added value of the exposure itself is difficult to pin down.
"It would be nearly impossible to get this type of exposure given the international focus of the meeting," Dr. Madsen said via email. "There is no other venue where this type of exposure can be obtained."
Dr. Madsen said that without the prize, he and his company would not have been able to attend the conference as even mere spectators, let alone gain the level of exposure the presentation and partnering meetings will deliver.
Dr. Madsen, the former Entrepreneur in Residence for UNeMed, co-founded ProTransit in 2013 with former UNMC researcher and inventor Vinod Labhashetwar, Ph.D., who is now at Cleveland Clinic.
Dr. Labhashetwar developed a novel nanoparticle that can deliver antioxidant enzymes to the deepest layers of skin where they can prevent and perhaps undo some of the damage caused by free radicals. The technology could be incorporated into current skin care products and make them far more effective at things like preventing skin cancer, wrinkles and blemishes.
In the future, ProTransit will also be developing similar products for treatment of serious ailments like spinal injuries and stroke.
UNeMed is the technology transfer and commercialization office (TTO) for the University of Nebraska Medical Center. UNeMed serves all UNMC researchers, faculty and staff who develop new biomedical technology and inventions, and strives to help bring those innovations to the marketplace.