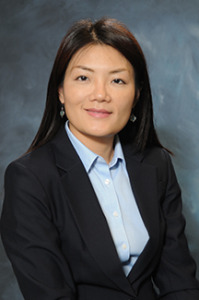 OMAHA, Neb. (Oct. 16, 2014)—UNeMed announced today that postdoctoral licensing associate Qian Zhang, Ph.D., has been promoted to a new and permanent full-time position with UNeMed as the International Technology Development Specialist.
With the new job, Dr. Zhang will focus more on international tele-medicine and forming international relationships.
"I'm very excited for the new job. It has a broader scope in terms of responsibilities," Dr. Zhang said.
Born in Linyi, China, Dr. Zhang attended graduate school at the University of Nebraska Medical Center where she briefly considered an academic research career. After earning her doctorate in cancer biology in 2011, Dr. Zhang joined UNeMed as an intern. UNeMed soon offered her a one-year appointment as a postdoctoral licensing associate, where she helped evaluate and bring UNMC innovations to the market.
"We are incredibly pleased to have Dr. Zhang fill this position," said Michael Dixon, president and CEO of UNeMed. "Dr. Zhang's experience and knowledge of global markets, specifically China and Japan, allow us access to a multitude of international companies that are interested in partnering and investing in our new technology."
As an important staff member, Dr. Zhang has been assisting UNeMed in international markets. Fluent in Chinese, Dr. Zhang has helped UNeMed create connections with businesses in foreign markets.
Dr. Zhang was also a recipient of the 2014 Howard Bremer Scholarship from the Association of University Technology Managers.
Dr. Zhang is currently working on her MBA at the University of Nebraska at Omaha and expects to receive her diploma in December 2014.