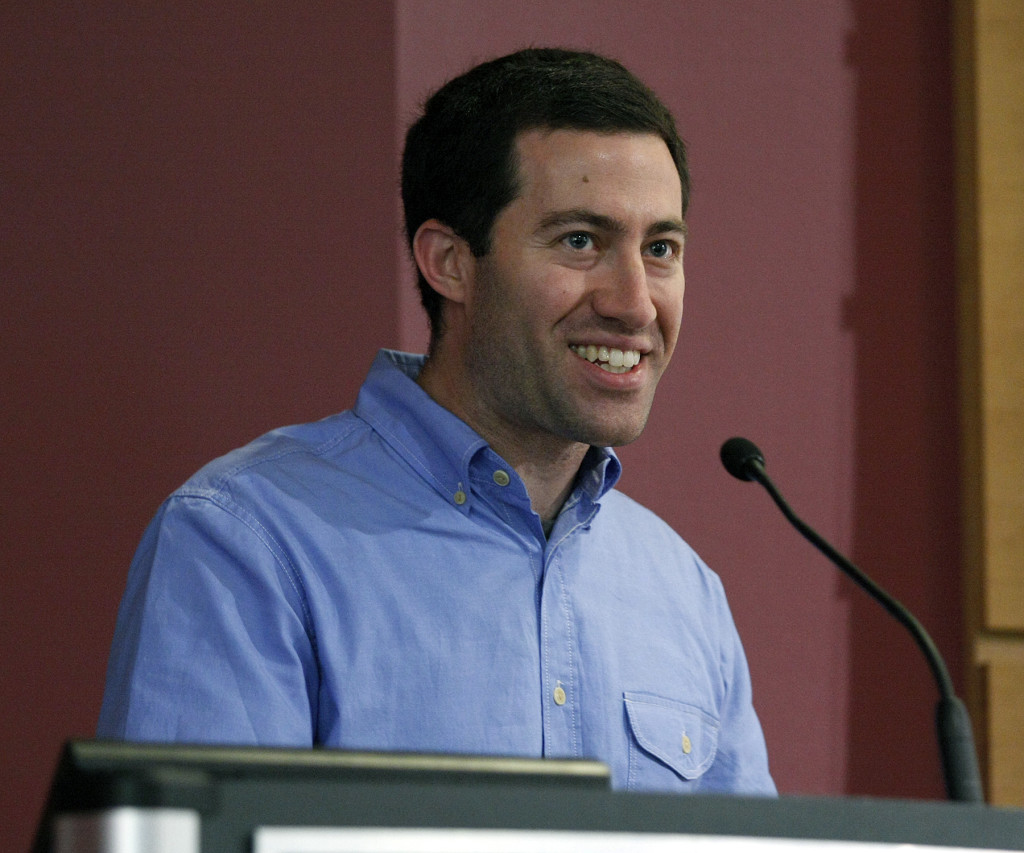 by Tyler Mueller, UNeMed
OMAHA, Neb. (October 20, 2015)—Featured speaker Adam Ruben, Ph.D., joked about the grueling, thankless, tiring process of obtaining his Ph.D., and why he still didn't completely hate it.
As part of UNeMed's Innovation Week, Dr. Ruben—author of "Surviving Your Stupid, Stupid Decision to Go to Grad School"—entertained an estimated audience of 80 with his negative experiences in graduate school, but also offered a bit of serious advice for careers outside the lab.
Dr. Ruben first marveled at UNMC's graduate program, which he called the "unicorn of grad school" because students here typically finish their programs within five or six years. "That's not normal," he said. "You guys are in an unusually good place."
He then relayed a story about his sixth-year in grad school, where his advisor demanded data for a seminar in three days. Dr. Ruben said he worked 63 hours over three days to meet the deadline, which left only three hours for sleep each night. The problem was when he got home the first night, his basement-level bedroom was flooded with raw sewage. Without enough time or resources to resolve the reeking filth in his bedroom, Dr. Ruben continued his work—and got what sleep he could in his flooded room.
He made the deadline, but when it came time to present Dr. Ruben's data during the seminar, the advisor did not even include in the presentation.
The entire experience, he felt, perfectly summed up graduate school.
"And so, it was with that, that I decided to write this book," Dr. Ruben said.
Dr. Ruben read passages from his book, poking fun at various aspects of graduate school, including the exhausting process of having his advisor and committee members all want to put their own spin on his thesis, and all the ridiculous ways students try to remember ridiculous amounts of knowledge.
Dr. Ruben urged students to do as many things as possible, even when they don't seem very lucrative. Dr. Ruben judged high school science fairs. While he didn't take away any career opportunities from it, it was something he enjoyed and learned from. Doing something might lead to something better, Dr. Ruben said.
"Doing nothing will lead to nothing," he said.
Dr. Ruben also advised students to be open to other careers.
"Academic scientists are told, 'You have two choices: You can be a tenure-track professor or you can be a failure,'" said Dr. Ruben.
Dr. Ruben argued that wasn't the case, listing off careers such as science writing, science advocacy, consulting, industry science, and teaching.
Those kind of careers are often a result from meeting people at events and other activities that fall outside graduate work. He said it was a low-percentage to make the right kind of connection so it was important to continually engage in the things you enjoy.
But when it comes to graduate work, Dr. Ruben stressed that students take the initiative.
"Don't wait for someone to make you do the work," said Dr. Ruben. "You have more control over your destiny than you think you do."