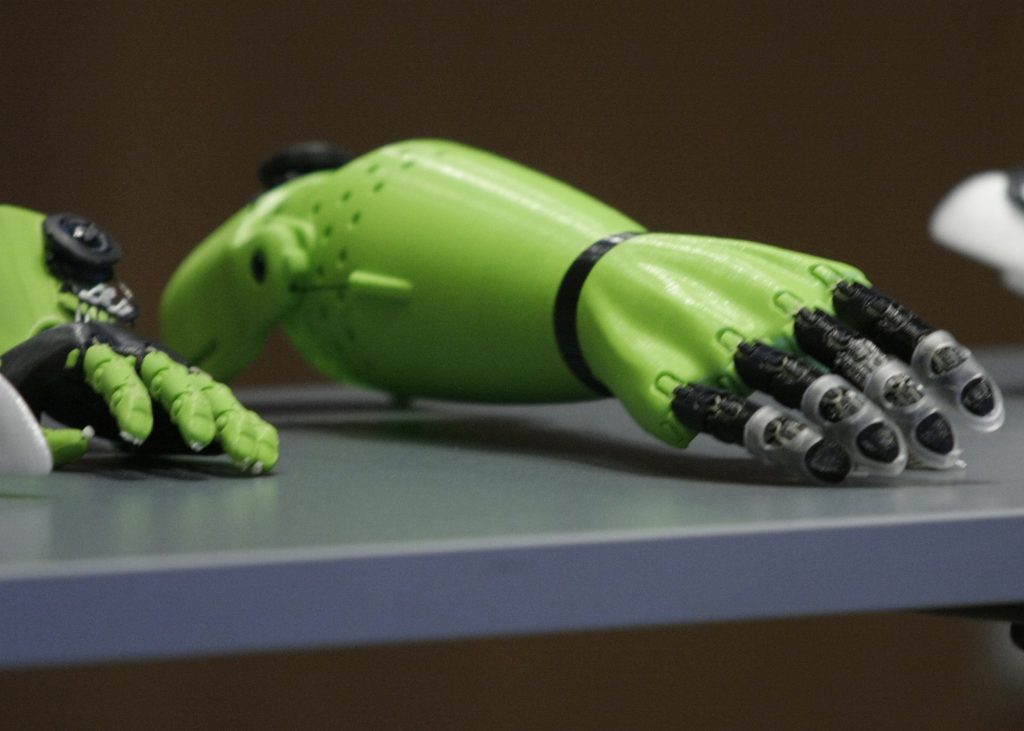 OMAHA, Neb. (Oct. 5, 2016)—Some of the university's more intriguing technologies and startups were on display Wednesday evening during the fourth installment of UNMC Technology Demonstration Day at the Michael F. Sorrell Center.
A part of UNeMed's 2016 Innovation Week, Demo Day featured six short presentations, and examined some UNMC technologies and partnerships as they move toward the marketplace.
The featured companies and technologies were Orion BioScience, sympathetic vasomotion, Avert, Prommune Inc., Cyborg Beast and Chrysalis Medical. Videos of all presentations will soon be made available on UNeMed's YouTube channel.
Josh Sestak, Ph.D., the Chief Scientific Officer and co-founder of Orion BioScience, began with the first of six 10-minute presentations. Orion is an Omaha startup working on a platform technology that holds the potential as a cure for autoimmune diseases.
Peter Pellegrino, an M.D./Ph.D. candidate at UNMC, is a researcher in
Irving Zucker's, Ph.D., laboratory where they've developed an system for accurately measuring the sympathetic nervous system. The technology—referred to as sympathetic vasomotion—could be used to non-invasively measure neural signals that regulate blood flood flow. It could be used to improve significantly current procedures related to high blood pressure, blood loss and neurodegenerative diseases.
Preston Badeer, CEO, presented Avert's concussion detection platform. The technology works much like a bathroom scale, detecting imperceptible shifts in a person's balance. When a person such as a football player suffers a concussion, the small shifts in balance change patterns. The automated system might be the earliest and most accurate way to detect when a person has suffered a concussion. More importantly, it can also accurately gauge when a persona has full recovered from a concussion as well.
Prommune Inc. CEO Sam Al-Murrani, Ph.D., outlined his company's approach to fighting infections. Prommune's technology is based on a synthetic protein that boosts the natural immune response to certain infections.
Jorge Zuniga, Ph.D., a researcher at UNO's Biomechanics Research Building, presented Cyborg Beast, a prosthetic hand for children that is made entirely with 3D-printed parts. The bright—and often multi-colored—hands are popular worldwide, and look like something out of the pages of science fiction. One of his designs led to actor Robert Downey Jr. presenting a version of Zuniga's cybernetic "Iron Man" hand to a Florida boy. His goal is to provide low-cost or even free prosthetics to children around the world, and he is expected to outline some his latest developments.
Chrysalis Medical CEO Ron Allen closed out the presentations with a talk about a new kidney dialysis catheter that is expected to enter the market within the next six months. Built into the new catheter's tip is a small balloon, similar to the type used in angioplasty procedures. The catheter's balloon is used to break up and minimize the amount of tissue that often builds up on dialysis catheters. The innovative device eliminates most of the need for the current standard of care, which is often the costly and somewhat risky procedure of replacing a blocked or obstructed catheter.
Innovation Week concluded this evening at 4 p.m. in the Durham Research Center auditorium with the Innovation Awards Ceremony and Reception. There, UNeMed will honor all UNMC faculty, students and staff who disclosed a new invention, received a U.S. patent or licensed a technology in fiscal year 2016. UNeMed will also name the 2016 Innovator of the Year and the 2016 Most Promising New Invention.
Officials will also draw for a free 3D printer, which can be won by any UNMC personnel or student who enter the drawing at any Innovation Week event. They must be present at the drawing in order to win, however.
For more information about all 2016 Innovation Week events, go to https://www.unemed.com/innovation-week.