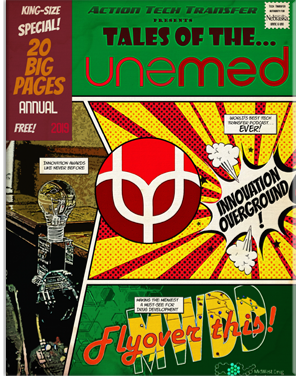 OMAHA, Nebraska (Oct. 14, 2019)—UNeMed released today its 2019 annual report, which details UNeMed's key metrics, and highlights notable achievements during the fiscal year ending in 2019.
In an open letter to readers, UNeMed President and CEO Michael Dixon, Ph.D., highlights the addition of new tools available to UNeMed staffers as they help commercialize and transfer University-born innovation into the public sector.
Last year, UNeMed built a new conference that sought use the collective power of the region as a way to leverage more interest and engagement from pharmaceutical companies and investor groups. The MidWest Drug Development Conference, was "a resounding success," Dixon said.
The conference played a large role in grant support from SHARPhub, which uses NIH money to provide entrepreneurial resources to researchers in the Midwest. SHARPhub is short for Sustainable Heartland Accelerator Regional Partnership, and is available in North Dakota, South Dakota, Nebraska, Kansas and Oklahoma.
"SHARPhub will provide the kind of support that UNMC and UNO startups might need to be more competitive for venture or SBIR funding," Dixon said, "or it might help provide support for additional development of new technology."
Dixon also highlighted the growth of UNeTech as a biomedical startup accelerator in the region.
"UNeTech can be a place where biomedical entrepreneurs can move past their origin stories to develop products that have a national and global impact on human health," Dixon said.
The annual report offers more details on the Drug Development Conference, and also highlights the Innovation Overground, a tech transfer podcast UNeMed launched in July 2018. The report also details the 2018 Innovation Awards banquet, and the more recent news about Howard Gendleman, M.D., and his team's breakthrough with HIV.
Finally, several key technologies currently available for licensing are also included in the report.
The report can be viewed online, and printed copies are also available. Contact UNeMed to receive a free printed copy.
2019 UNeMed Annual Report by on Scribd