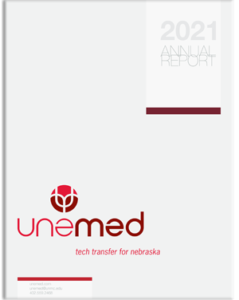 OMAHA, Nebraska (March 23, 2022)—UNeMed released today its 2021 annual report, detailing key metrics, highlights and notable achievements during the fiscal year ending in 2021.
The report focused on recent successes in the startup realm, highlighting several technologies and new businesses that spun out of discoveries and innovations from faculty and staff at UNMC and UNO.
In an open letter to readers, UNeMed President and CEO Michael Dixon, PhD, notes that despite the pandemic—and the resulting growth of remote working—University of Nebraska faculty, students and staff maintained a high level of productive creativity.
"…it's clear that impediments to office hours and in-person meetings will not stop the pace of innovation," he wrote. "Our researchers, students and staff have been chugging along at a steady clip and have defied all expectations."
He goes on to say that 2021 was the latest in a string of four straight years of receiving more than 100 new invention disclosures. Inventors set a UNeMed record in 2018 with 11 new inventions, which was the first year UNeMed hit triple digits in that category. Innovators then logged another 101 in 2019, followed by 105 in each of the last two fiscal years.
Dixon also pointed out another company record was set in 2021 with 26 United States patents issued. But he added added that big numbers in invention disclosures and secured patents only reveal a partial picture.
"When we look at our portfolio of technologies," he wrote, "I'm most proud that more than 60 percent have been licensed to a commercialization partner that has invested in continued development and commercialization."
Some of those licenses include a record seven new startups formed. But the report also highlights several more established companies that have gone on to higher levels of success, including Virtual Incision, Radux, Vireo, and Ensign Pharmaceutical, to name a few.
Other metrics highlighted in the annual report include international patents, agreements, revenue and other benchmarks that measure UNeMed's commercialization efforts.
The annual report also recounts the 2020 Innovation Awards and the University's robust innovations in the earliest days of the COVID-19 pandemic.
Finally, several key technologies currently available for licensing are also outlined in the report.
The report can be viewed online, and printed copies are also available. Contact UNeMed to receive a free printed copy.