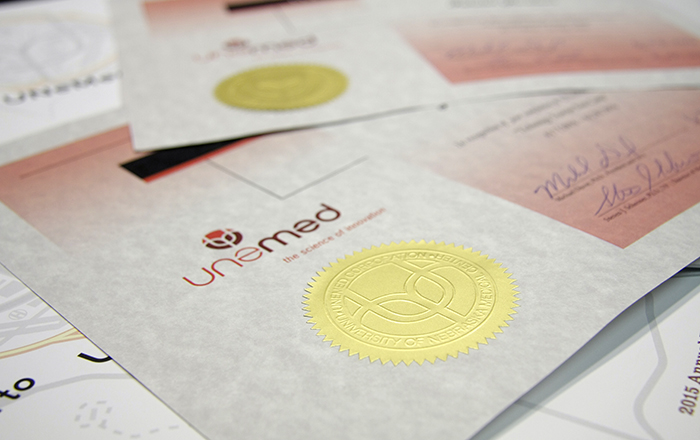 OMAHA, Neb. (May 1, 2019)—UNeMed is accepting qualified applications for an opening on its licensing team.
A licensing associate at UNeMed is an entry-level position aimed at those interested in a career in technology transfer. In the course of their duties, the licensing associate will develop the skills associated with commercializing academic innovations and discoveries.
The licensing associate will also work closely with inventors, helping evaluate, market and license the discoveries and innovations that emerge from the University of Nebraska Medical Center and the University of Nebraska at Omaha.
The licensing associate position is a one-year appointment, which can be renewed annually for up to three years.
A minimally qualified candidate will have:
A bachelor's degree in a scientific field
Proficiency in the Microsoft Office suite of software
Strong organizational skills
Exceptional written, oral, communication and analytical skills
Preference will be given to candidates with advanced degrees and those with relevant experience in chemistry, biology or life sciences. Other desirable traits include familiarity with business development, technology commercialization and license negotiation.
Learn more, including how to apply for the position, at the UNMC job portal, https://unmc.peopleadmin.com/postings/44791.