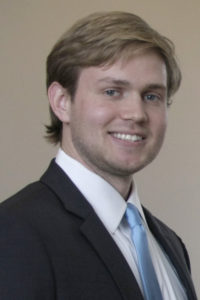 OMAHA, Neb. (December 11, 2017)—William Payne, a doctoral student of pharmaceutical sciences at UNMC, was recently selected as the University of Nebraska's top choice to present his business plan at the largest entrepreneurial conference in the region next month.
Payne's business plan rose to the top of a selection process that pulled the best proposals from all University of Nebraska campuses. He will join three other "Pipeline Spotlight Entrepreneurs" who will pitch their ideas during Pipeline's annual Innovation Awards on Jan. 25, 2018, in Kansas City. Other Spotlight Entrepreneurs will represent the University of Kansas, the University of Missouri and Washington University in St. Louis.
Pipeline is an entrepreneurial mentoring program in the Midwest that offers a handful of highly selective entrepreneurial fellowships each year. Fellows in the Pipeline program received hands-on training from successful entrepreneurs and mentors from around the region and across the nation. The program helps fellows refine their business plans, raise money and dramatically improve their chances for ultimate success.
The four students selected as Pipeline Spotlight Entrepreneurs will receive similar guidance, with regional and national mentors helping the entrepreneurs refine their company pitches. The final test will come during Pipeline's annual conference next month. There, the student entrepreneurs will get the rare opportunity to propose their ideas to a room full of potential investors and partners.
UNMC's Payne will present his startup company, Simple Vet Solutions.
"Will has already accomplished something that many entrepreneurs struggle with," said UNeMed President and CEO Michael Dixon, who also serves as a mentor for Pipeline. "He went out and identified a real problem, then he created a real solution. And, he already has people that are paying real money for that solution. Sounds simple enough, but those are three critical elements that don't always come together for entrepreneurs."
Payne partnered with his veterinarian father, Bert, to create Simple Vet Solutions. It's a software service that eliminates the extra time and energy required to meet FDA regulations for animal medications.
Simple Vet Solutions, according to the executive summary in the business plan, offers "secure and compliant management of veterinary prescriptions and feed directives for any size of livestock operation, veterinary practice, or feed distributor."