OMAHA, Nebraska (October 27, 2020)—UNeMed's Innovation Week continued today with a panel discussion that focused on local resources for web and app development for academic innovators and entrepreneurs.
In an hour-long seminar held via Zoom, the expert panel discussed the type of services they offer; what startups and entrepreneurs can expect when looking into software applications and innovations; and offered advice on how to get started on a web or app development project.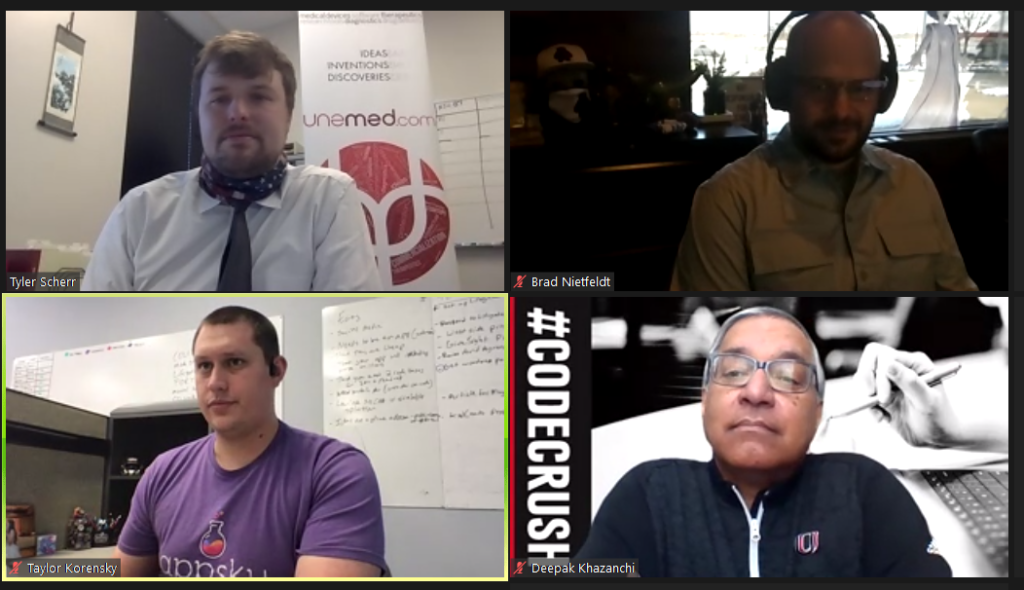 Among the panel's recommendations included advice for academic researchers and innovators: Try not doing everything.
Panelist Brad Nietfeldt, of the Omaha Media Group, said that a business owner should focus their time in other areas, rather than diving deep into app development.
"From a cost perspective," he said, "it's probably to your benefit to hire somebody versus you trying to do it, and stealing your time away from something else, like growing and scaling the company."
One major benefit to working with a third party like Omaha Media Group, Appsky or the University of Nebraska at Omaha, is the specialized set of expertise those groups can bring to a project, said panelist Deepak Khazanchi, PhD, a professor in UNO's College of Information Science & Technology.
"We are in that middle place where we can provide expertise on actually building algorithms that address a research question, but that is a very collaborative enterprise," he said. "And then we can build a commercial tool out of that."
Taylor Korenzky, the CEO and founder of Appsky, was the remaining panelist, and told the audience that listening to potential users should be the first step.
"My advice is to talk to end users before you talk to me," he said. "You'll learn a ton with their insights into the problem you're trying to solve, and then it's much easier for a development company."
The entire panel discussion is available on UNeMed's YouTube channel, and can be viewed at https://youtu.be/kjCkPjVpnT0.
Innovation Week continues tomorrow with another panel discussion, this one covering local prototyping and manufacturing options on Wednesday, Oct. 28 at noon. Open and free to all, that panel discussion can be viewed via Zoom at https://bit.ly/iWEEK20protopanel.
Finally, Innovation Week concludes on Thursday, Oct. 29, with the Innovation Awards ceremony at noon.
The awards will be held via Zoom, and will honor all UNMC and UNO faculty, students and staff who submitted a new invention, were awarded a U.S. Patent or had a technology licensed during the 2020 fiscal year. UNeMed will also name the year's Most Promising New Invention and will announce the "Innovator of the Year."
The Awards ceremony can be viewed via Zoom at https://bit.ly/iWEEK20awards.
More information about Innovation Week and the Innovation Awards can be found at unemed.com/innovation-week.