Description
Smartphone app uses biomechanics to help the elderly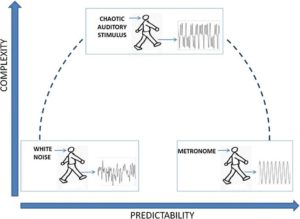 Something as simple as walking to the beat of chaotic music can help prevent falls in the elderly.

New research from the University of Nebraska at Omaha demonstrates that elderly gait can be made more stable by listening to music with a variable beat: chaotic music.

By simply walking in-beat with chaotic music, gait stability dramatically improved in the elderly, which, in turn, improves safety and fall prevention.
The research is based on the work of UNO's world-leading expert on biomechanics, Nicholas Stergiou, Ph.D. Biomechanics, the study of human movement, demonstrates that a lot can be learned about a person from the variability of their movements.

A person with Parkinson's disease has too much variability. A person with an orthopedic injury has much, much less.

The key to healthy movement is finding and maintaining the right balance of variability in movement.

To discuss licensing opportunities contact Tyler Scherr, Ph.D., at tyler.scherr@unmc.edu or 402-559-2140.