Description
Predict fall risk to prevent injuries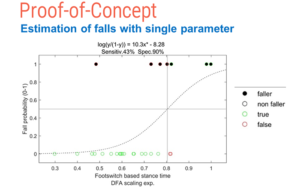 Slips and falls are random. But we know several risk factors that make falling down much more likely. Risk factors include advancing age, visual impairments, muscle weakness and even prior hospitalization.

A special insole and a proprietary algorithm could help physicians more accurately predict the likelihood of falling, and help prevent serious injuries to elderly patients in particular.

Nick Stergiou, Ph.D., and his colleagues in the biomechanics department at the University of Nebraska at Omaha, developed such a device—the insole and the accompanying algorithm—for fall-risk assessment. The portable, wireless device can be easily worn to collect critical biometric data after a few minutes of walking. The data can be stored on the device and transferred to the program via USB, or uploaded wirelessly to the cloud.

The current prototype assesses fall risk in a small population with 90 percent specificity. The research team believes they can refine the algorithm to increase specificity even further with a larger sample size.

Contact Tyler Scherr, Ph.D., at tyler.scherr@unmc.edu or 402-559-2140 to discuss partnering and licensing opportunities.