Description
Let students see themselves in the laboratory
Scientific observations are just like any other: informed by a person's upbringing, biases and likes. The key to good science is diverse scientists so those observations are made from many points of view.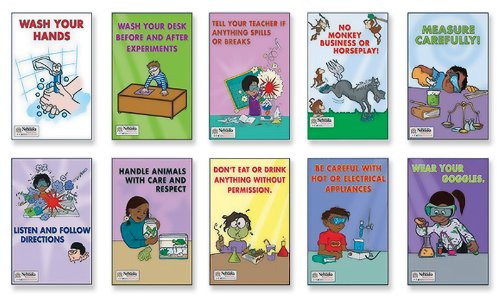 Science education needs to reach out to everyone. Science, Technology, Engineering and Math, STEM education, needs to do more to make scientists, engineers and mathematicians as diverse as the people that rely on their discoveries. Maurice Godfrey, Ph.D., produced science classroom posters that promote laboratory safety rules. The classroom posters depict students from diverse ethnic backgrounds. Each one focuses on a different aspect of laboratory safety.

Dr. Godfrey produced the STEM posters to include with teacher resources in mobile science classrooms to educate Native American children. These innovative posters are now available to the public through Nebraska Scientific.

The Nebraska Scientific Lab Safety Posters can be purchased directly from Nebraska Scientific through Amazon.