Description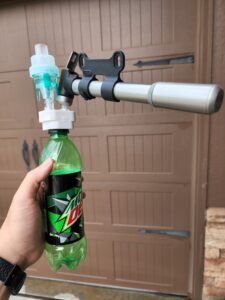 Improvise a nebulizer with a 3D printer, household items
This innovative concept uses 3D-printed parts, recyclable materials, and a bicycle pump to fabricate a device capable of aerosolizing a liquid solution.

About 400 million people around the world have been diagnosed with asthma, many of whom are children. It is well established that patients from lower socioeconomic or developing regions experience more asthma symptoms, yet tend to receive less medical care. This sub-standard care is believed to be related to poor access to durable medical equipment. Children with poorly controlled asthma have an increased risk of developing other chronic diseases in adulthood, such as chronic obstructive pulmonary disease (COPD) and heart disease.

The UNMC Deptarment of Emergency Medicine, in collaboration with the University of Nebraska-Lincoln's College of Engineering, set out to develop a DIY asthma nebulizer that does not require electricity to operate. This project was code named, Project FreeAir. The primary objective was to engineer a working prototype, then make all design schematics free online for anyone to download and produce their own nebulizer.

The team developed a working prototype capable of delivering an aerosolized medication with 3D-printed parts, a soda bottle, and a bicycle pump. Based on initial validation testing, Project FreeAir generates sufficient pressure to deliver 45-60 seconds of aerosolization with every three pumps.

Design Teams:
University of Nebraska Medical Center, Dept. of Emergency Medicine:
Thang Nguyen, PhD
Abraham Campos, MD
Aaron Barksdale, MD
Michael Wadman, MD
Wesley Zeger, DO
University of Nebraska-Lincoln, College of Engineering:
Kevin Cole, PhD
Kurt Palik
Bryce Bonner
Gordon Chou
Jack Mar
Wesley Matheny
Thomas Simon

All design schematics are available for download. If our designs are used in your projects/research, we ask for attribution to our design teams. Thank you.