by Agnes Lenagh, UNeMed | Feb. 22, 2013
One of the perks of working at UNeMed is the ability to interact with industry professionals worldwide. We're always looking for new opportunities to engage companies and establish new friendships with industry personnel.
Such an opportunity arrived earlier this month when UNeMed President and CEO Michael Dixon, Ph.D., received a request from the International Professional Development (IPD) program manager at the University of Nebraska-Omaha: Japanese professionals interested in biotech, Takehide Kimura and Tatsuke Toya, wished to visit our facilities and discuss technology transfer at the University of Nebraska Medical Center (UNMC).
IPD prepares international professionals to be effective and successful in the world of global business. Companies around the world have participated in IPD since 1989 and enjoyed gaining authority in the global marketplace. The program includes intensive training in English language and communication skills, as well as knowledge of global business practices.
IPD also offers professionals an opportunity to develop their networks and access Omaha's international business community. To achieve this, part of the program includes corporate visits where trainees spend about four hours interacting with staff and touring facilities. This is where UNeMed comes in, as we work with international companies to promote technology developed at UNMC.
On Friday, Feb. 15, we welcomed our Japanese guests at our office. The UNeMed staff prepared a stimulating schedule highlighting different aspects of technology transfer and a tour of research facilities on campus. "We enjoyed viewing the excellent facilities and discussing with many researchers in the university," Mr. Kimura said in an email.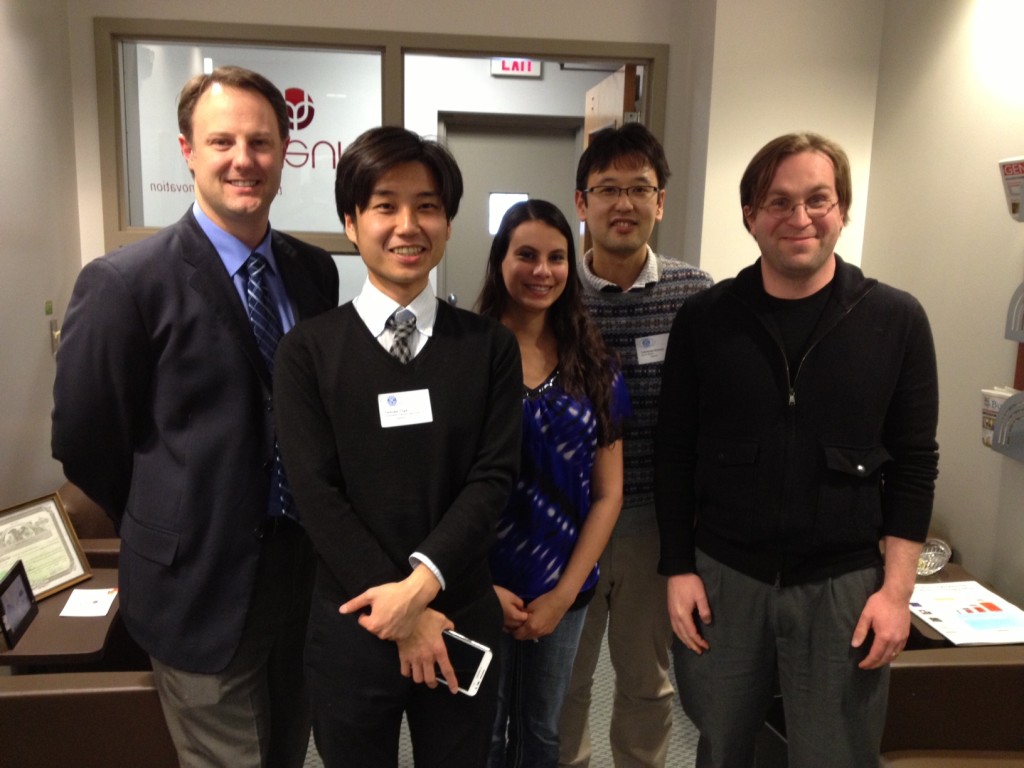 We exchanged business cards and courtesies, and I had the opportunity to practice my shamefully rusty Japanese. Once our guests settled down, Dr. Dixon described how UNeMed fosters innovation and promotes UNMC technologies with industry collaborations. He was excited to host individuals from two prestigious Japanese companies.
"It's a great opportunity for us to get more detailed information about global pharmaceutical companies and have an opportunity to expose them to the great research that's going on at UNMC," Dr. Dixon said. "I hope we are able to visit their companies in the near future."
Next, the Japanese visitors presented overviews of their companies and explained their individual roles.
Mr. Kimura works in the Research and Development Department of Kiowa Medex, a member of Kyowa Hakko Kirin group. Kiowa Medex supplies advanced healthcare in vitro diagnostics and equipment. Mr. Kimura was interested in meeting people who worked in sales and marketing of biotech-related products.

His area of interest is biomarkers and test kits, as well as biotech/medical in general.
Mr. Toya works in the Legal Affairs Department of Kobayashi Pharmaceutical, which manufactures and sells OTC pharmaceuticals, oral hygiene products, deodorizing air fresheners, sanitary, and other products.

Toya was interested in the legal aspects of the technology transfer process.
The group then discussed various aspects of technology transfer including, invention receipt, intellectual property, marketing, and licensing. UNeMed's licensing team presented insights into their responsibilities and roles at UNeMed and some of the projects we are working on. Mr. Kimura actively participated in the discussion and was interested in the aspects of licensing and marketing different technologies. There was an emphasis on establishing collaborations with industry and how individuals within companies are essential to the success of technology transfer at the university.
Qian, a licensing associate who also obtained her PhD at UNMC, and I volunteered to provide a tour of several research facilities on campus. Our Japanese guests had the opportunity to visit the cell analysis and flow cytometry core, the confocal microscopy core, the proteomics core, the biosafety level 3 research facilities, and a research lab. This was the first time Mr. Toya had visited a research laboratory. "I had never visited Research facility such as Medical Center, and I learned many things," Mr. Toya noted in an email.
Building relationships is important in technology transfer and these types of visits serve as networking events. Visits to our office and research labs help place our university and its technologies on the map of these global companies.
"When you would come to Japan, please let me know and visit my company," Mr. Kimura reminded us in an email.
UNeMed is looking forward to hosting future IPD trainees and other biotech professionals to foster mutually beneficial relationships for all of those that participate.
About the Author


Agnes Lenagh, PhD

Agnes is currently a Licensing Specialist at UNeMed. She is a scientist by training, a free thinker by design, and a bohemian soul by nature. Agnes is part of a team that promotes innovation to make the world a better place. She is working to ensure that scientific and technological developments are accessible to the world. She is also committed to pursuing the passions that inspire her while taking non-conventional approaches to accomplish a meaningful life. @SilverAntigen

Contact Agnes: agnes.lenagh@unmc.edu