Description
Novel diagnostic for Parkinson's disease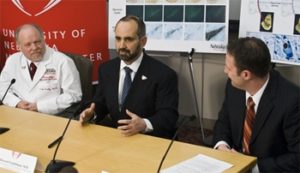 A new discovery at the University of Nebraska Medical Center could take most of the guesswork out of delivering an accurate and reliable diagnosis for Parkinson's disease.

Current methods for diagnosing the more than 1 million Americans suffering from Parkinson's involve a basic neurological exam and information provided by the patient. The resulting diagnosis in early stage patients is often inaccurate, inconsistent, and must be periodically reevaluated.

A team led by research physician Howard Gendelman—the 2008 Scientist Laureate, UNMC's highest research honor—discovered a unique correlation between Parkinson's disease and a protein found in a certain subset of immune cells called T-cells. An abundance of the protein could indicate a more severe case of the disease.

Researchers are currently developing a simple blood test that could help physicians detect and monitor the disease at the earliest stages. Early testing indicates a blood screen using this method would help patients and their doctors diagnose, track and monitor Parkinson's disease with more accuracy and confidence than ever before.

To discuss licensing opportunities please contact Matt Boehm, Ph.D., at mboehm@unmc.edu or 402-536-9881.