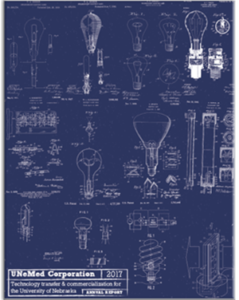 OMAHA, Neb. (Oct. 23, 2017)—UNeMed released today its 2017 annual report for the fiscal calendar year.
The report details UNeMed's key metrics, and highlights notable achievements during the previous fiscal year.
In an overview, the report notes the long journey of innovation, particularly in biomedical fields. The report cites several examples of innovations that evolve and grow as inventors continue to build on an idea. Often, the final product looks remarkably different than the original idea. The report also highlights several "featured current technologies" before diving into metrics from the previous fiscal year.
Among the more noteworthy metrics from 2017 is the number of agreements. In 2017 UNeMed set another new company record for material transfer agreements. UNeMed signed 366 MTAs, the 12th straight year setting a record in that category.
UNeMed also signed an all-time high 23 licensing deals in in 2017. The previous record was 22, set in 2013.
There were also marked increases in patents and revenue. UNeMed's 52 issued patents was a 108 percent increase over the previous fiscal year. UNeMed brought in $2.27 million to the University of Nebraska, which was 31 percent increase and the third-highest tally in UNeMed's 26-year history.
The report can be viewed online, but printed copies are also available. Contact UNeMed to receive a free printed copy.
2017 Annual Report by UNeMed Corporation on Scribd