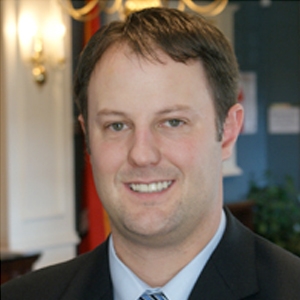 OMAHA, Neb. (April 28, 2009)—UNeMed Corporation, the for-profit technology transfer arm for UNMC, will have a new president as of May 1. Michael Dixon, Ph.D., director of the intellectual property office, was named last week to the position by the UNeMed Board, chaired by Don Leuenberger, vice chancellor of business and finance. James Linder, M.D., current president and CEO of UNeMed, was then named CEO.
"Michael brings to the position a unique understanding of both science and intellectual property," Dr. Linder said. "He's become nationally recognized in key groups, such as the Association for University Technology Managers and the Licensing Executive Society."
Dr. Dixon, 33, has successfully mixed science and business since he received his doctorate degree in molecular biology from the UNMC Eppley Cancer Center in 2003. At that time, he became the faculty liaison/technology transfer associate in the Intellectual Property Office (IPO), becoming director in 2006.
In that year, IPO and UNeMed merged and Dr. Dixon remained director of the office until he was named vice president and chief operating officer of UNeMed in January 2008.
"In the past few years he has earned the respect of faculty at UNMC and has established strong internship and postdoctoral programs at UNeMed," Dr. Linder said. "He has built educational relationships with Creighton University and the University of Nebraska at Omaha and has developed a close working relationship with the Office of Technology Development at the University of Nebraska-Lincoln."
As CEO, Dr. Linder will be involved in, business development outreach to external partners and venture capital development. Dr. Dixon said he is proud of the significant increase in technology transfer activity on campus.
"In the past three years, we've seen more than a 50 percent increase in licenses and inventions going through UNeMed," he said. "Our staff has been able to keep up with the pace and increase our efficiency to become a valuable resource for the campus."
Moving UNMC technologies from the bench to the marketplace to help people is rewarding for Dr. Dixon.
"I want to continue to build on the successes of Dr. Linder, who developed the commercial side to UNeMed, and Tom McDonald, Ph.D., who led UNeMed before him as one of first entrepreneurs on campus," he said.
One of his long-term goals is to bring in as much research money to UNMC as the tobacco settlement provides — $5 million to$6 million a year.
UNeMed now generates more than $1 million in revenues — the bulk of which is from the Leveen probe, a non-surgical tumor ablation device that was invented in the early 1990s and licensed in the late '90s. It has become the gold standard for nonsurgical tumor ablation treatment.
Dr. Dixon points to other technologies that will help build the research revenue stream:
StayActiv, sold as a capsule or cream, provides fast pain relief and also promotes repair of muscles, joints and tissue. It is the only product on the market that targets inflammation and lactic acid — the two main sources of pain. It was licensed to Vireo Systems, Inc., and has subsequently spawned the birth of a new company in Plattsmouth, Neb., Vireo Resources, which processes and packages nutritional products. The technology behind StayActiv was invented in the late 1990s by a UNMC research team led by Jonathan Vennerstrom, Ph.D., and Donald Miller, Ph.D. The team included Sam Augustine, Pharm.D., Tom McDonald, Ph.D., Jon Wagner, Pharm.D., and Dennis Robinson, Ph.D.
Addrenex contracted with UNeMed to rapidly acquire new drug candidates by tapping into UNMC's considerable scientific expertise and its pre-existing library of alpha-2 adrenergic compounds. The library and associated intellectual property was gifted to UNMC by Proctor and Gamble in 2002. Two of the compounds have been tested in clinical trials involving 700 patients with either nasal congestion or migraine headache. If successful, the value of potential sales from these products could exceed $2 billion.