Bring in more than $5 million in funding
by Tom O'Connor, UNMC
OMAHA, Neb. (Dec. 5, 2014)—The Fred & Pamela Buffett Cancer Center at the University of Nebraska Medical Center and its clinical partner, Nebraska Medicine, has added five new translational cancer researchers to its staff in recent months.
Located at 45th Street and Dewey Avenue, the Fred & Pamela Buffett Cancer Center is scheduled to open in 2017.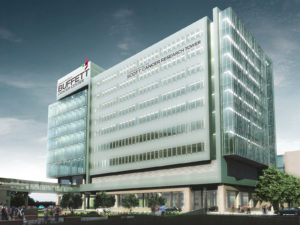 The recruits hail from some of the nation's top scientific and medical institutions. Collectively, they bring more than $5 million in cancer research funding to Nebraska. All have begun their work at the Fred & Pamela Buffett Cancer Center during the past four months.
"When we launched this ambitious project to build the world's finest cancer center right here in Omaha, we believed that it would attract the very best minds in cancer research from around the world," said Ken Cowan, M.D., Ph.D., director of the Fred & Pamela Buffett Cancer Center.
"These recruits exemplify that vision. We are building a place where pioneering scientific exploration will shape the future of cancer science and medicine – and these recruits are just the start."
The $323 million Fred & Pamela Buffett Cancer Center – the largest construction project ever on the medical center campus – will create approximately 1,200 jobs at the medical center alone, plus thousands of others in construction and related industries. In total, the project will provide 4,657 new jobs to the metro area, infusing $537 million annually into the economy on an ongoing basis.
As translational cancer researchers, these new recruits conduct research that applies discoveries generated in the laboratory directly to patients' bedsides.
The new recruits are:
Nick Woods, Ph.D.
Michael Green, Ph.D.
Amar Singh, Ph.D.
Punita Dhawan, Ph.D.
Rebecca Oberley-Deegan, Ph.D.
The Fred & Pamela Buffett Cancer Center is a National Cancer Institute (NCI) designated cancer center — a distinction held by only 68 centers in the country. It is the only NCI-designated center in the state of Nebraska. The Fred & Pamela Buffett Cancer Center is also one of the 13 founding members of the National Comprehensive Cancer Network (NCCN), an alliance of the world's leading cancer centers. This recognition means the most current and innovative treatment options are available to cancer center patients through the integration of cutting-edge research into state-of-the-art care. Cancer center physicians and scientists work together to quickly translate discoveries made in the laboratory into innovative treatments for the patient.