by Tyler Mueller, UNeMed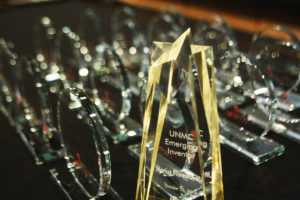 OMAHA, Neb. (Oct. 24, 2014)—Marius Florescu, M.D., took home the 2014 Emerging Inventor award, while Jason MacTaggart, M.D., received the Most Promising New Invention award during UNeMed's eighth annual Innovation Awards Ceremony and Reception Thursday afternoon at the University of Nebraska Medical Center.
An estimated 203 attended the Innovation Awards ceremony, the culmination of UNeMed's Innovation week, where researchers such as Drs. Florescu and MacTaggart are honored and celebrated for their inventions and discoveries. UNeMed also honored all the UNMC staff, students, and faculty who received a U.S. patent, licensed an innovation or reported a new invention during the last fiscal year.
Dr. Florescu, an associate professor in the nephrology division of UNMC's Department of Internal Medicine, received the Emerging Inventor award for two his recent inventions: A hemodialysis catheter and a device to improve the arteriovenous or AV fistula.
The new hemodialysis catheter tube is designed with a small balloon that can expand to remove the build-up that naturally grows into a mass that blocks flow. Florescu's innovative design would significantly lower the cost of removing the blockage by eliminating the need for additional procedures.
The new design for the AV fistula is the first major improvement in 40 years in the area. AV fistulas are made by surgically creating a portal between a vein and artery, usually in the wrist, for patients who must undergo regular hemodialysis.
Dr. MacTaggart, an assistant professor in the vascular surgery section of UNMC's Department of Surgery, was awarded the Most Promising New Invention for his new surgical tool, the AquaBlade. The AquaBlade is designed to cut tissue amid flowing blood using highly-pressurized water. The device can also be used to remove stents in blood vessels. The AquaBlade is less invasive, thereby lowering the risk factor associated with heart surgery and speeding up the recovery process for the patient.
"Considering all of the other outstanding work and creativity demonstrated by many of my colleagues here at UNMC, this award is a great honor for me and my collaborators," Dr. MacTaggart said via email. "We can't thank our friends at UNeMed and people like my chairman of surgery, Dr. [David] Mercer, enough  for helping facilitate the work that led to this award, as it is their unwavering support of our research that allow us to conceive and refine inventions like the AquaBlade."
UNeMed also awarded prizes to the winners of the first ever scavenger Hunt, which went to Brady Sillman and Danielle Fenster who tied for first place.
Divya Bhagirath was the lucky winner of the free iPad.