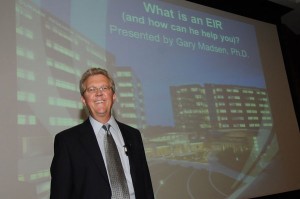 Yesterday, Dr. Gary Madsen, UNeMed's Entrepreneur-In-Residence (EIR) discussed his role in the company.
Attendees learned that an EIR takes on different roles depending on the client. UNeMed's EIR is here to help with business consulting, networking, mentoring, and coaching those who are dwelling or seeking to venture into the entrepreneur realm.
Innovation Week continues with a seminar highlighting the new America Invents Act (AIA).
This federal legislation was signed into law on September 16, 2011 and represents the most significant change to our patent system since 1952.
AIA transformed the U.S. patent system from a "first to invent" to a "first inventor to file" system and this switch will come into effect in March 2013. These and other changes will be discussed by Steven Ritchey, Charles Romano, and Denise Mayfield from Thompson Coburn, LLP.
Charles Romano, Ph.D. is a Senior Patent Agent in the firm's intellectual property area and has over fourteen years of experience in the biotech industry.
Steven Ritchey, J.D. is a partner and is involved in the firm's Intellectual Property practice and is in charge of preparation and prosecution.
Denise L. Mayfield, J.D. is a partner in the firm and advises academic institutions, biotechnology firms, and pharmaceutical companies on various areas.
The seminar will be held today at 2:00 PM in DRC-I 1005. Attendees will have the opportunity to interact with the panelists during the seminar.