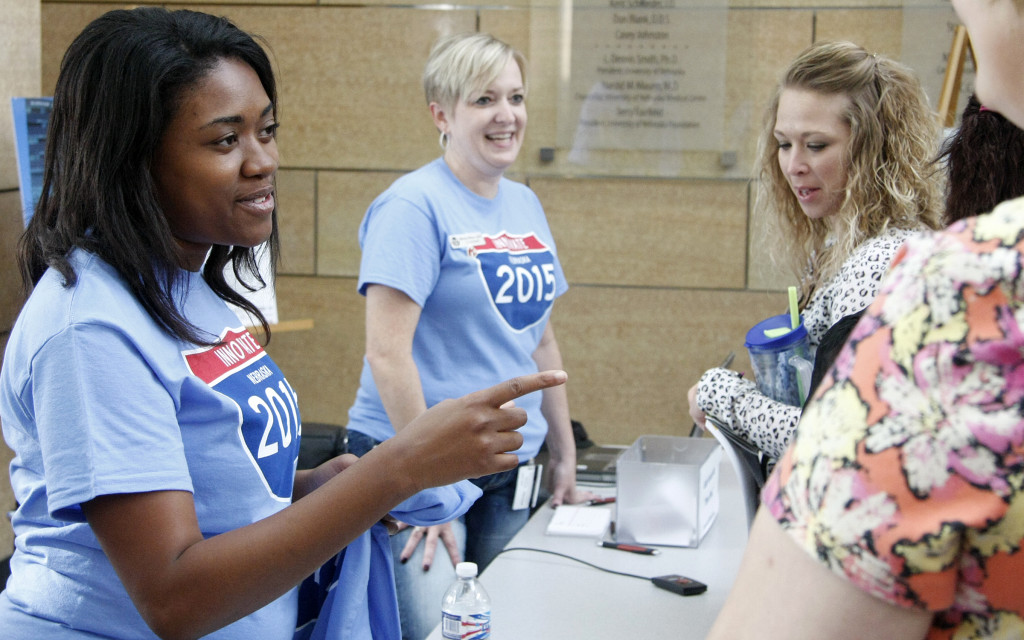 by Tyler Mueller, UNeMed
OMAHA, Neb. (October 19, 2015)—The ninth annual Innovation Week kicked off this morning with a meet-and-greet open house in the Durham Research Center atrium at the University of Nebraska Medical Center.
UNMC students, faculty and staff were invited to meet UNeMed staff, grab a free goodie bag, snacks, drinks, and a T-shirt. Attendees could also register for the free iPad drawing during Thursday's Innovation Awards Ceremony and Reception.
Innovation Week honors the hard work and accomplishments of UNMC/UNO researchers, inventors and their collaborators. Events are scheduled throughout the week, celebrating achievements and technologies.
Those interested in alternative career paths are encouraged to attend the career panel on Monday, Oct. 19, from 2-3 p.m., in the DRC Auditorium where professionals from various scientific fields will discuss their profession and how they got there. Students can also attend the Adam Ruben event on Tuesday, Oct. 20, in the DRC auditorium. Ruben, author of "Surviving Your Stupid, Stupid Decision to Go to Grad School," will also discuss careers away from the lab.
New inventions and technologies will be on display during the iExcel Expo, giving attendees a chance to see some of the newest invention up-close. The event will be held in the Sorrell Center room 1012 on Tuesday, Oct. 20, from 9-11:30 a.m. and 1-4 p.m. Demo Day will give six companies a chance to show-off their technology based on UNMC research. Demo Day will be held in Sorrell Center room 3001 on Wednesday, Oct. 21, from 4-6 p.m.
The "Mission SimPossible" event will pit two groups of medical students against one another in a test of skills, knowledge and grace under pressure in the Sorrell Center, room 3002 on Tuesday, Oct. 20, from 12-1 p.m. The winning team will be announced during the Innovation Awards on Thursday.
The Innovation Awards will bring an end to Innovation Week on Thursday, Oct. 22, in the DRC Auditorium at 4 p.m., where this year's Innovator of the Year and Most Promising Invention will be announced. The winner of the iPad will also be announced, but that person must be present to claim the prize.