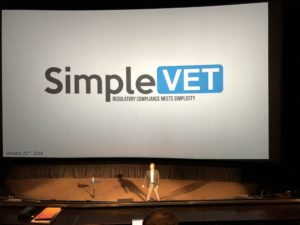 Kansas City, Missouri (Jan. 25, 2018)—Nebraska entrepreneurs  were the toast of the show at a regional entrepreneurial awards ceremony last week, receiving recognition for entrepreneurial leadership, best pitch, growth and the Innovator of the Year.
During Pipeline's annual The Innovators awards ceremony, Omaha startup founder and Nebraska native Evan Luxon was named the 2017 Innovator of the Year. Luxon, the co-founder of Centese—formerly known as Esculon—also won the Innovator Pitch Competition.
Last fall, Centese was among the first startup companies to sign on with UNMC's incubator program, UNeTech. Centese is developing a self-cleaning chest tube that would be less likely to become blocked or clogged.
Nebraska also claimed the Entrepreneurial Leadership awards for the continued support and advocacy from the University of Nebraska, Nelnet, Prairie Ventures and Linseed Capital. The University of Nebraska's Pipeline sponsorship includes contributions from UNeMed, UNeTech and the University's tech transfer office in Lincoln, NUtech Ventures.
Pipeline is an entrepreneurial mentoring program in the Midwest that offers a handful of highly selective entrepreneurial fellowships each year. Fellows in the Pipeline program received hands-on training from successful entrepreneurs and mentors from around the region and across the nation. The program helps fellows refine their business plans, raise money and dramatically improve their chances for ultimate success.
The program culminates with the annual Innovators awards celebration.
Nebraska won a fourth award, the Pipeline Entrepreneur Growth award, which was presented to Lincoln resident and Bulu Box co-founder Paul Jarrett.
This also marked the first year that a UNMC student was selected to represent the University of Nebraska system in Pipeline's Spotlight Entrepreneur program. The program allowed four student entrepreneurs to present their business plans at the pitch competition and to be recognized before an estimated 600 attendees at the awards show.
William Payne, a UNMC doctoral student of pharmaceutical sciences, presented his company, Simple Vet Solutions. It's a software service that eliminates the extra time and energy required to meet FDA regulations for animal medications.
Simple Vet Solutions, according to the executive summary in the business plan, offers "secure and compliant management of veterinary prescriptions and feed directives for any size of livestock operation, veterinary practice, or feed distributor."