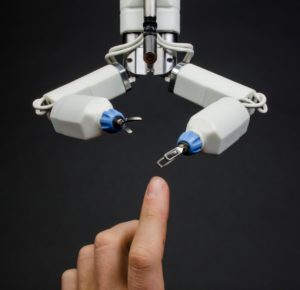 OMAHA, Neb. (December 15, 2017)—Virtual Incision Corporation, a startup company born from a collaborative research project at the University of Nebraska, completed an $18 million round of fund-raising, officials announced Tuesday.
"Virtual Incision is a perfect example of what the University of Nebraska can do when we work together," University of Nebraska President Hank Bounds, Ph.D., said. "Multiple researchers from multiple campuses and areas of expertise, coming together to create something that makes the world a better place: That's the power of Nebraska."
The funds will support manufacturing and clinical trials that can allow Virtual Incision to secure FDA approvals in the United States. Virtual Incision has already performed successful procedures in humans during feasibility testing last year.
Virtual Incision is a product of the collaboration between the University of Nebraska Medical Center's chief of minimally invasive surgery, Dmitry Oleynikov, M.D., and Shane Farritor, Ph.D., a professor of engineering at the University of Nebraska-Lincoln. Oleynikov and Farritor are co-founders of the company, which licensed the technology from UNeMed, the University of Nebraska's technology transfer and commercialization arm in Omaha.
Virtual Incision's device is not yet commercially available, but it could change the future of surgical robotics and minimally invasive surgery.
"Virtual Incision demonstrates the kind of positive impact the University can have," said Jeffery Gold, M.D., Chancellor of UNMC and UNO. "We can talk about the benefits of new jobs and the boost to the local economy, but the important thing for me is they've built a medical innovation that can improve lives around the world. I think that alone is enough to make all Nebraskans proud."
Most surgical robots today are large, mainframe-like robots that reach into the body from outside the patient. They can be overly complex, often require dedicated spaces and weigh thousands of pounds—making them virtually permanent fixtures wherever they are placed.
Virtual Incision's two-pound robot platform features a small, self-contained surgical device that is inserted through a single midline umbilical incision in the patient's abdomen. The technology is designed to use existing tools and techniques familiar to surgeons, and does not require a dedicated operating room or specialized infrastructure.
Because of its much smaller size, the robot is expected to be significantly less expensive than existing robotic alternatives for laparoscopic surgery. Virtual Incision's technology promises to enable a minimally invasive approach to surgeries performed today with a large open incision.
This most recent funding success was the second or Series B round of financing for Virtual Incision. Virtual Incision closed its Series A round in 2010 with $2 million. More recently, Virtual Incision closed a follow-on round with $11.2 million in 2015, which led to the successful feasibility trial and first-in-human tests.
"It's tremendous that their vision has been validated by significant external investment," said James Linder, M.D., President of Nebraska's University Technology Development Corporation. "They are role models for academic faculty and staff at the University of Nebraska who strive to commercialize inventions. Bringing new technology to the benefit of patients is the ultimate validation."
The device is designed for colon resection, a procedure to treat patients with lower gastrointestinal diseases including diverticulitis, pre-cancerous and cancerous lesions of the colon, inflammatory bowel disease and colon polyps that are too large to be removed endoscopically.
In the future, Virtual Incision's platform might also be used for gall bladder removal, hernia repair, colectomy and other abdominal surgeries, Oleynikov said.