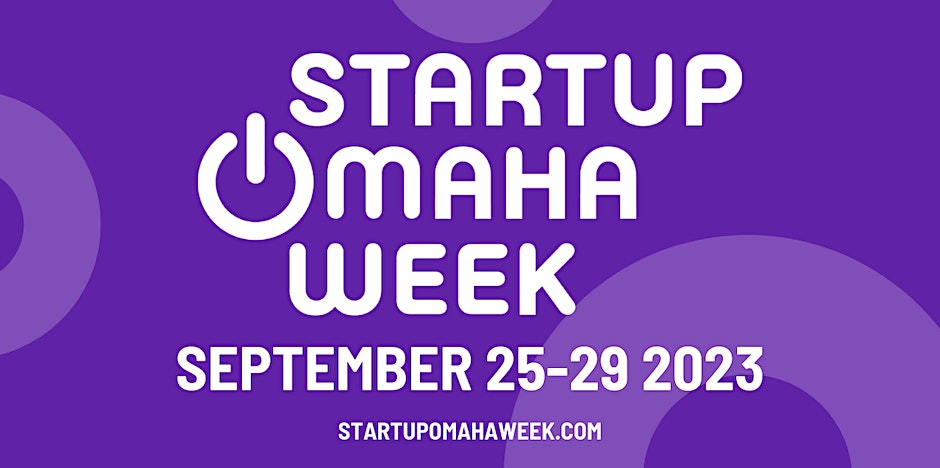 OMAHA, Nebraska (Sept. 20, 2023)—Startup Omaha Week, series of events celebrating and supporting the startup and entrepreneurial ecosystems in the wider Omaha area, begins Monday afternoon.
The event is primarily organized by the Omaha Chamber of Commerce, and welcomes all entrepreneurs, community members and supporters to participate.
Attendees can meet with startup founders, shake hands with investors, meet with support organizations, and learn more about available resources. This year's events will range in topics, format, and settings to ensure a variety of ways to engage and experience all the startup and entrepreneurial ecosystems have to offer.
Learn more at: https://startupomahaweek.com/
Tentative Schedule of Events:
(To register: https://www.eventbrite.com/e/startup-omaha-week-registration-697273252067)
Monday, Sept. 25 
Get Started Omaha Startup Showcase | 4:00 PM – 5:30 PM | The Ashton Building at Millwork Commons
Get Started Omaha Startup Pitch Competition Sponsored by Husch Blackwell | 6:00 PM – 7:00 PM | The Living Room at Millwork Commons
Startup Omaha Week Kick-Off Event | 7:30 PM – 9:30 PM | The Living Room at Millwork Commons
Tuesday, Sept. 26
Educational Event: Startups vs. Small Business | 11:00 AM-12:00 PM | The Ashton Building at Millwork Commons
Legal Office Hours hosted by Baird Holm LLP | 12:00-1:00 PM | The Ashton Building at Millwork Commons
Mug.News & Maverick Venture Fund Social | 5:00 PM – 7:00 PM | The Ashton Building at Millwork Commons
Startup Omaha Week Mystery Dinners | 7:00 PM | Varies Across Downtown Omaha  | $35
Wednesday, Sept. 27
1 Million Cups Omaha Funding Panel | 8:00 AM – 9:00 AM | The Ashton Building at Millwork Commons
Venture Capital (VC) Office Hours | 9:00 AM – 11:00 AM | The Ashton Building at Millwork Commons
Legal Office Hours hosted by Baird Holm LLP | 9:00-11:00 AM | The Ashton Building at Millwork Commons
Nebraska Enterprise Fund Small Business Clinic | 9:30 AM – 12:30 PM | The Highlander at Seventy Five North
Size Up Lunch & Learn – Innovative Tool for Market Research | 12:00 PM – 1:30 PM | The Highlander at Seventy Five North
Woman Up – Unleash Her Potential | Time 6:30 – 8:30 PM | Hitch
Thursday, Sept. 28
Educational Event: Startup Fundraising in Nebraska: Founder vs. Investor | 9:30-10:30 AM | The Ashton Building at Millwork Commons
Legal Office Hours hosted by Baird Holm LLP | 10:30-11:30 AM | The Ashton Building at Millwork Commons
Scale Omaha Fireside Chat with Special Guest | 6:00 PM – 8:00 PM | Modus Co-Working
Friday, Sept. 29
Entrepreneurs and Favors (AF) | Time: 10:30 AM – 12:00 PM | Council Bluffs
SPN Office Hours presented by ELS & Nebraska Angels | Time: 4:00 PM – 5:00 PM | Elevator Co-Warehousing
E-Commerce and Friends Ft. Emily Steele | Time: 5:30 PM – 7:00 PM | Elevator Co-Warehousing